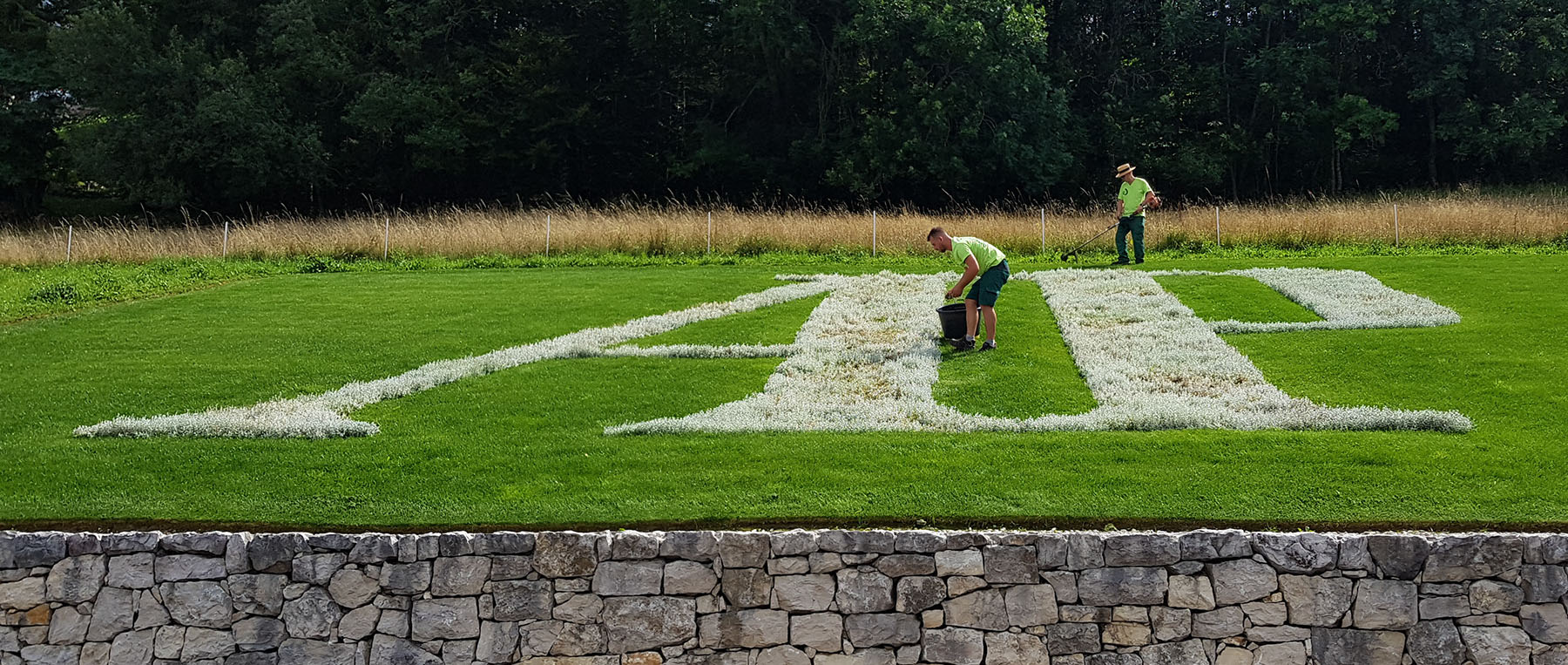 Audemars Piguet Master Class in Le Brassus, Switzerland.
Visiting Audemars Piguet in Switzerland and attending a Master Class, was a life-changing event for me. In this article you will get a glimpse into the mysterious world of luxury watchmaking, that very few people are fortunate enough to experience.
The fact that this brand said no to be featured in a James Bond movie, tells you this is no ordinary company. Actually, it is the very essence of extraordinary.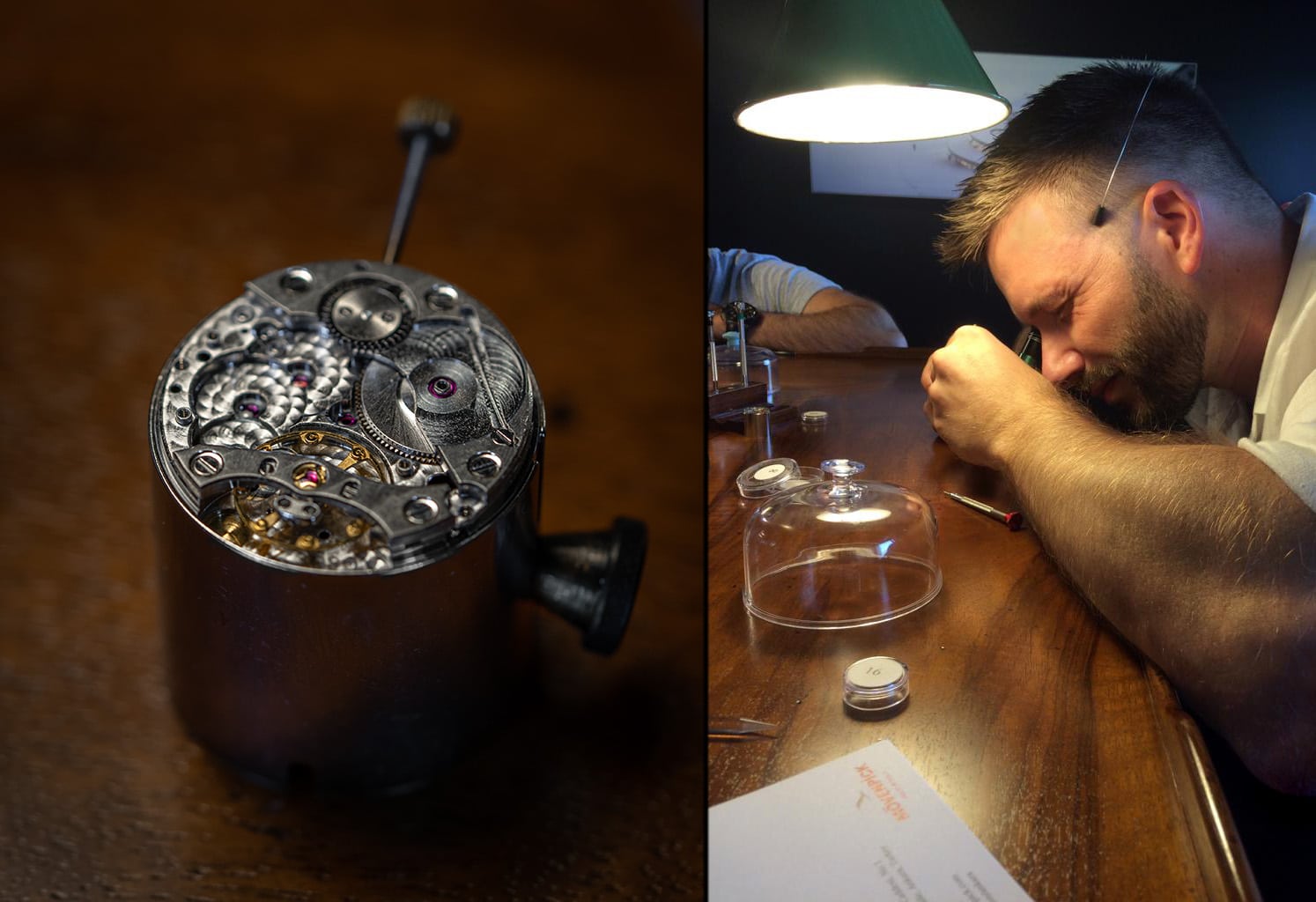 Trying it out as a watchmaker. A great experience but incredibly challenging!
Foreword
Before we dive in, it's important to set the expectations. I recommend that you either bookmark this page or grab a cup of coffee and kick your feet up. This is not a short read, so get comfortable. However, if you're a horophile I will serve it straight upfront: We won't be talking caliber numbers or tourbillon movement details.
I don't consider myself a watch enthusiast (not yet, but I'm getting warmed up) – nor am I an expert. However, my fascination with watches (or lack thereof) got turned completely upside down, on a warm and pleasant spring afternoon in Hamburg, Germany in 2015 – the day I discovered Audemars Piguet Royal Oak in stainless steel.
My first encounter with Audemars Piguet.
Before we travel to Le Brassus and continue with the main narrative of this article, I will briefly share with you, my first encounter with this amazing brand. I ventured into a luxury watch boutique in Hamburg, feeling very much out of my element. I immediately confessed to the staff greeting me: "I know nothing about watches – can you educate me a bit, and show me what you have?"
The manager made a quick gesture to one of the employees. 2 minutes later, champagne and snacks arrived – and boy was I in for a treat! The next hour was a bombardment of information – going through their brands and trying out countless pieces on my wrist. From gold and platinum to advanced ceramic and carbon fiber. Decorated with jewels and diamonds, and carrying extremely advanced watch complications. From tourbillon and minute repeater to perpetual calendar, moonphase, and more.
The most beautiful watch I have ever seen: Audemars Piguet Royal Oak.
Even though they were all immaculate and meticulously designed beauties of art, I was on the lookout for something else. A wristwatch that doesn't scream for attention – that only watch connoisseurs will recognize. One you can wear for pretty much all occasions, without people labeling you as a show-off.
He said: "I know exactly what you are looking for – just a moment, sir", and went resolutely for one of the few glass cabinets, we hadn't yet explored.
If true love between a human and a mechanical device can exist, this was unequivocally love at first sight. Behold the Audemars Piguet Royal Oak in stainless steel with blue dial.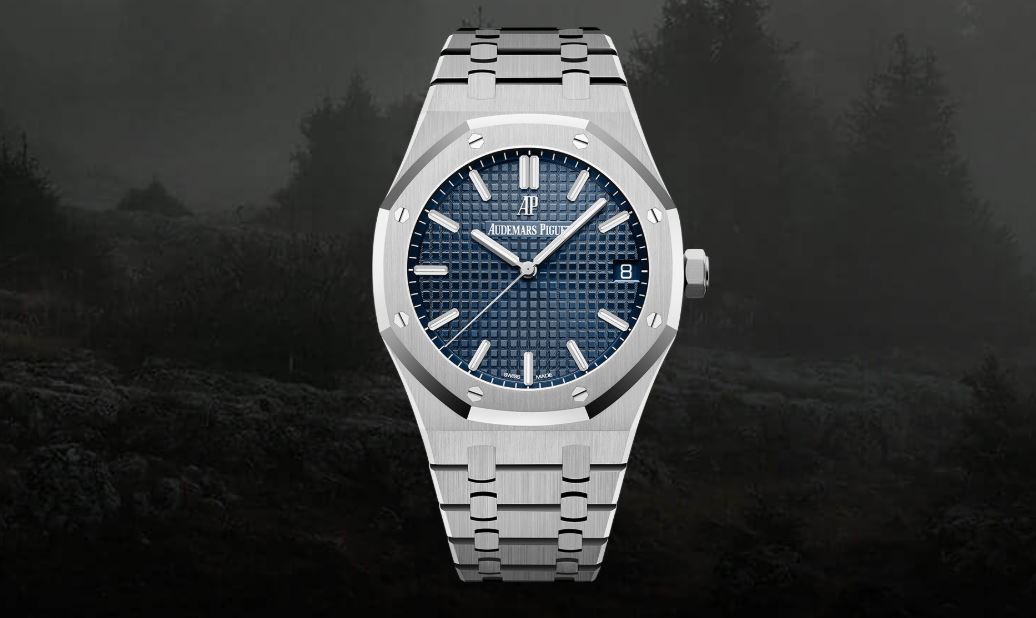 There was no doubt in my mind – this was the watch for me. They showed me other models and brands afterward, but honestly, I didn't pay much attention. I made my choice, my mind was at peace.
Now there was only the minor detail, that it might take up to 2 years to receive the watch. Not to mention the ~€20.000 (~$22,000) price tag, which has gone up quite a bit since then. However, I decided in the end that potentially having to wait that long, for a piece in this price category – on my first "real" day of exploring luxury watches, was a bit over the top.
How I got an invitation to an Audemars Piguet Master Class.
Fast forward 4 years, the old saying "out of sight, out of mind" has been as true as ever. The AP Royal Oak still remains high on the wish list. A little less than a year ago, we were attending EBACE in Geneva – a private aviation conference. Elo's employer Global Jet (an amazing company by the way) is collaborating with Audemars Piguet.
That meant I got to spend quite a bit of time with one of their employees. A person I am now proud to call a friend. Also, he is a genuine walking encyclopedia when it comes to watches and the horology industry as a whole.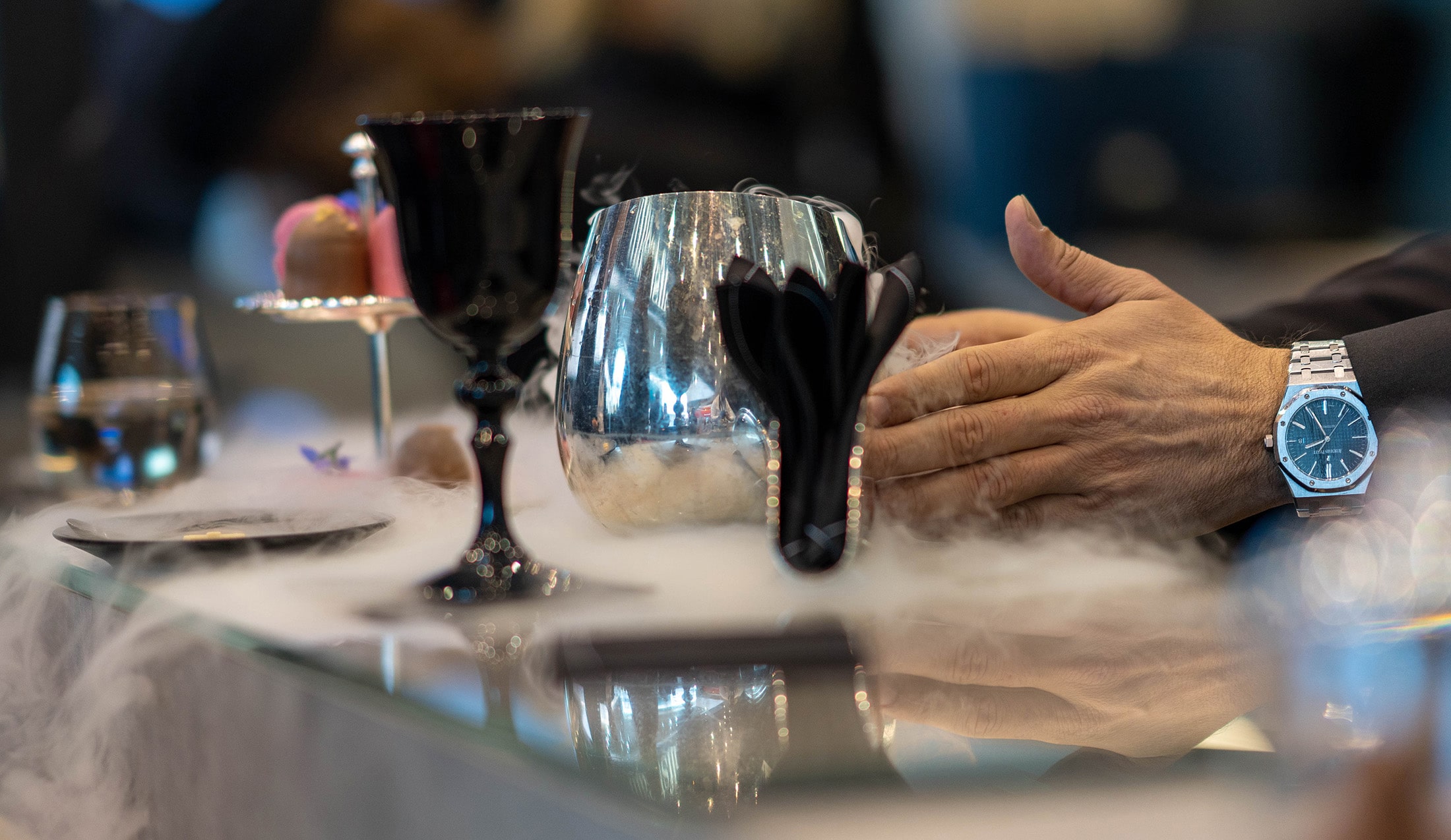 During EBACE 2019 I took a few photos for Global Jet. Though it's a very stylish table setup, the Royal Oak grabs the attention.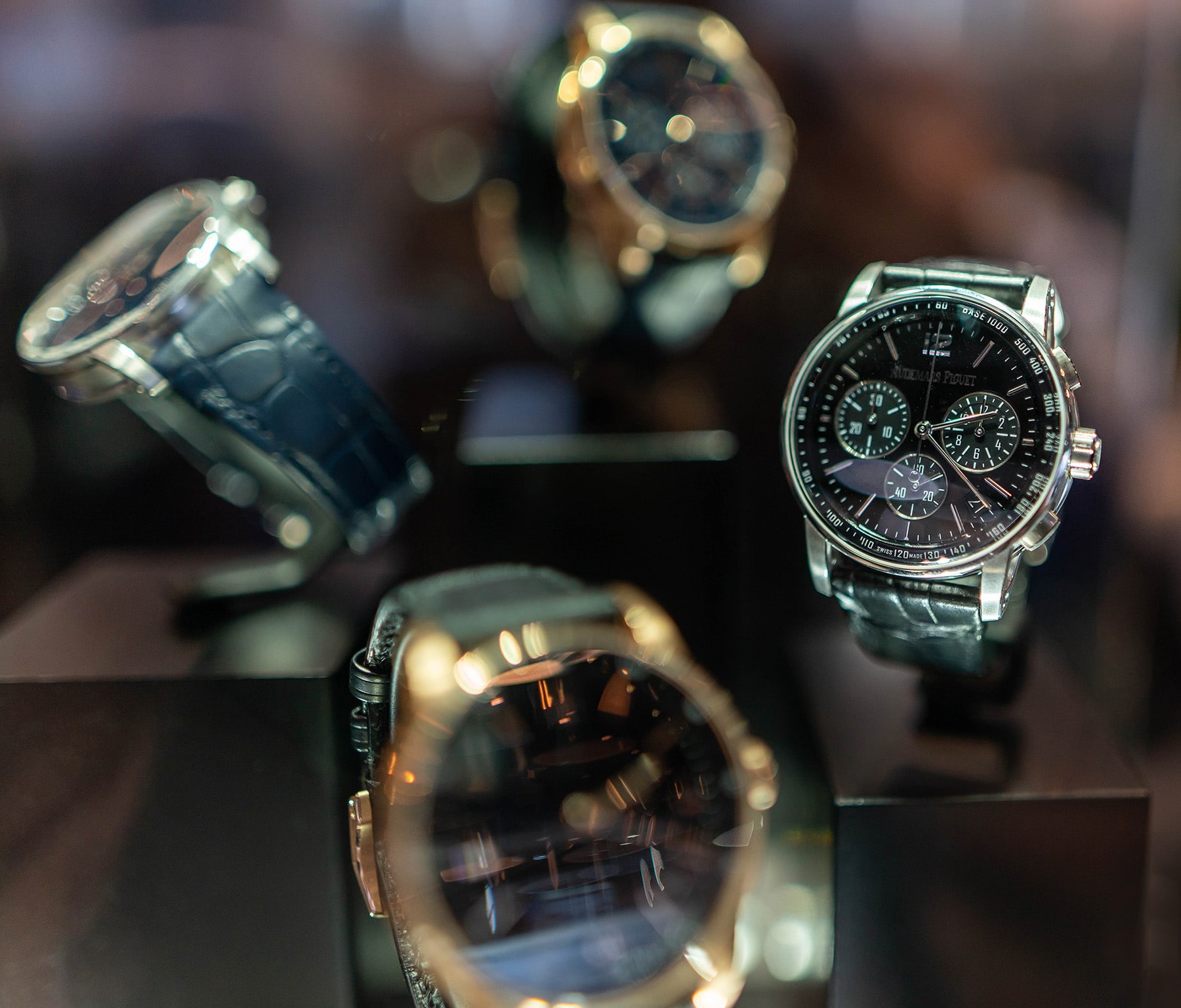 A display of watches from the Code 11.59 by Audemars Piguet collection was showcased during EBACE 2019. With a dedicated security guard of course.
After a few months of writing forth and back, it happened – I received my invitation! Incredible how much a mail and a pdf file can change a day for the better. Exactly one week later I would be in Le Brassus, a small village in the Vallée de Joux – one of the cradles of Swiss fine watchmaking. Brands like Blancpain, Breguet, Patek Philippe, Vacheron Constantin, Jaeger-LeCoultre, and most importantly – Audemars Piguet – still produce their famous watches and timepieces here.
The adventure begins.
At 05:58 AM I jump out of the hotel bed completely awake, 2 minutes before the alarm would have gone off. There's a first time for everything I guess I will be picked up at the luxurious Montres Prestige boutique, which is located inside the Fairmont Grand Hotel (previously Kempinski). One of the most expensive addresses – in one of the most expensive cities in the world: Geneva, Switzerland.
Impeccably dressed as always, my contact at Audemars Piguet greets me. It's obvious that he's way more cool, comfortable, and relaxed than me. I was like a kid waiting to go to Disneyland, smiling from ear to ear.
Driving in style.
2 minutes later a luxury van pulls up. We get on board, and this is where I get the first wow experience. A nice display of branded merchandise meets you right inside the van. In front of every seat, you find branded brochures, mint pastels, and wrapped wet towels. All neatly placed on the table. They have thought of everything, and you immediately feel embraced by luxury.
And just to emphasize the level of luxury and detail: the brochures in the van are not your average "see our products" type of brochures, no no no. It's an 8-page welcome pamphlet that tells you about the trip from Geneva. About the area around the Vallée de Joux, and the adventure you are about to embark on. In other words: this has been made solely for the few guests lucky enough to be invited to Audemars Piguet. How crazy is that?
A small group
We were only 3 people in total: my contact and me, and a cool young guy in his twenties. He wore an Audemars Piguet Royal Oak Offshore Chronograph with a black ceramic case. A watch that is worth more than most people's net income for a whole year! The last 3 attendees will arrive in Le Brassus by car, so we take off into the beautiful landscapes surrounding Geneva.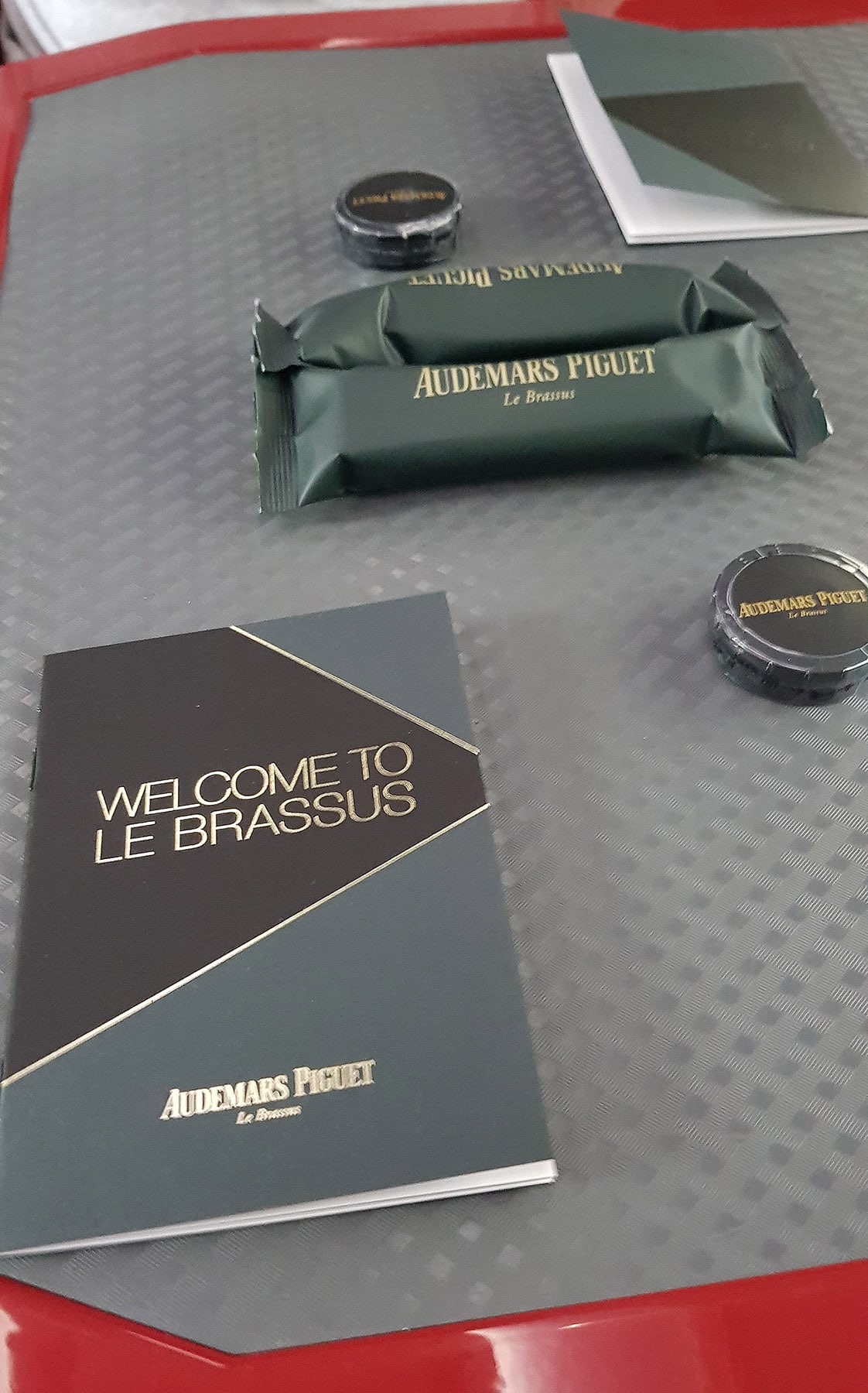 Arriving in Le Brassus at the Audemars Piguet headquarters.
The Vallée de Joux is very picturesque, and the small serpentine roads ensure we have plenty of time to enjoy the scenery. When the van finally stops, there is no doubt that we have arrived at the right place. Take a look at the lawn on the opposite side of the Audemars Piguet headquarters.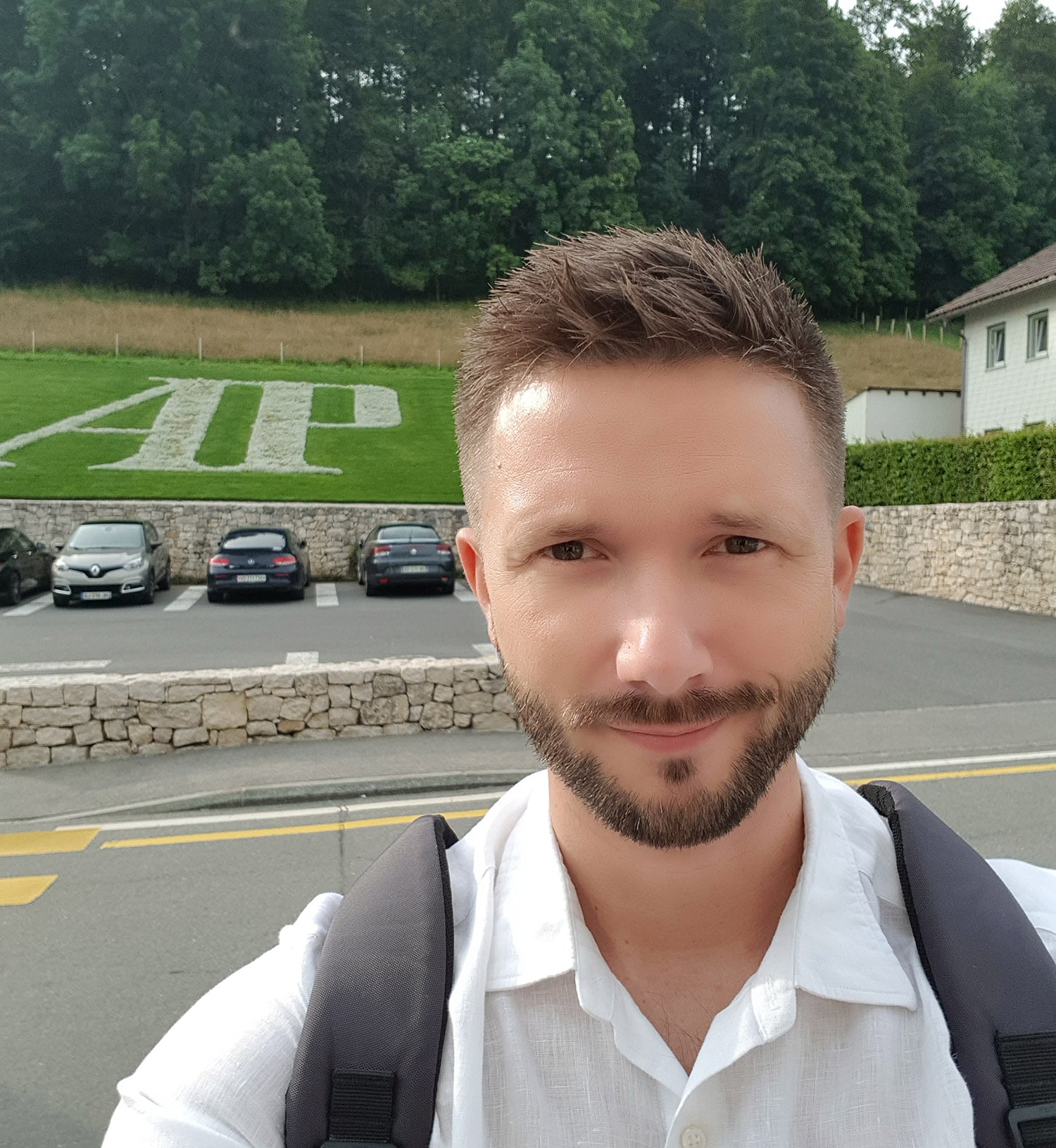 The AP logo on the grass lawn leaves no doubt, where you are.
We are greeted by 4 different people from Audemars Piguet. My fear of this encounter being a mix of posh and superficial quickly turns out to be unfounded. These are the warmest kindest people I have met for a long time, and I feel welcomed unconditionally. It's almost like we've been friends for quite a while, and the dialogue flows exactly like that. What a great welcome!
The guests arriving by car are late. Not something you experience very often in this country, where everything usually runs like clockwork. Though I sense our hosts would have preferred to start on time, they quickly adapt to the situation and make a few subtle changes in plans. No Panic – everything is again under control. A little later the last guests arrive, and we are ready to start the tour.
Entering sacred grounds: the old house of the Audemars family.
Next to the main office building lies the original Audemars Piguet workshop. Here Jules Louis Audemars and Edward Auguste Piguet founded their business in 1875. It was also the home of the Audemars family. A vital part of the Audemars Piguet history, this building has been carefully renovated and kept in great condition over the last 150 years.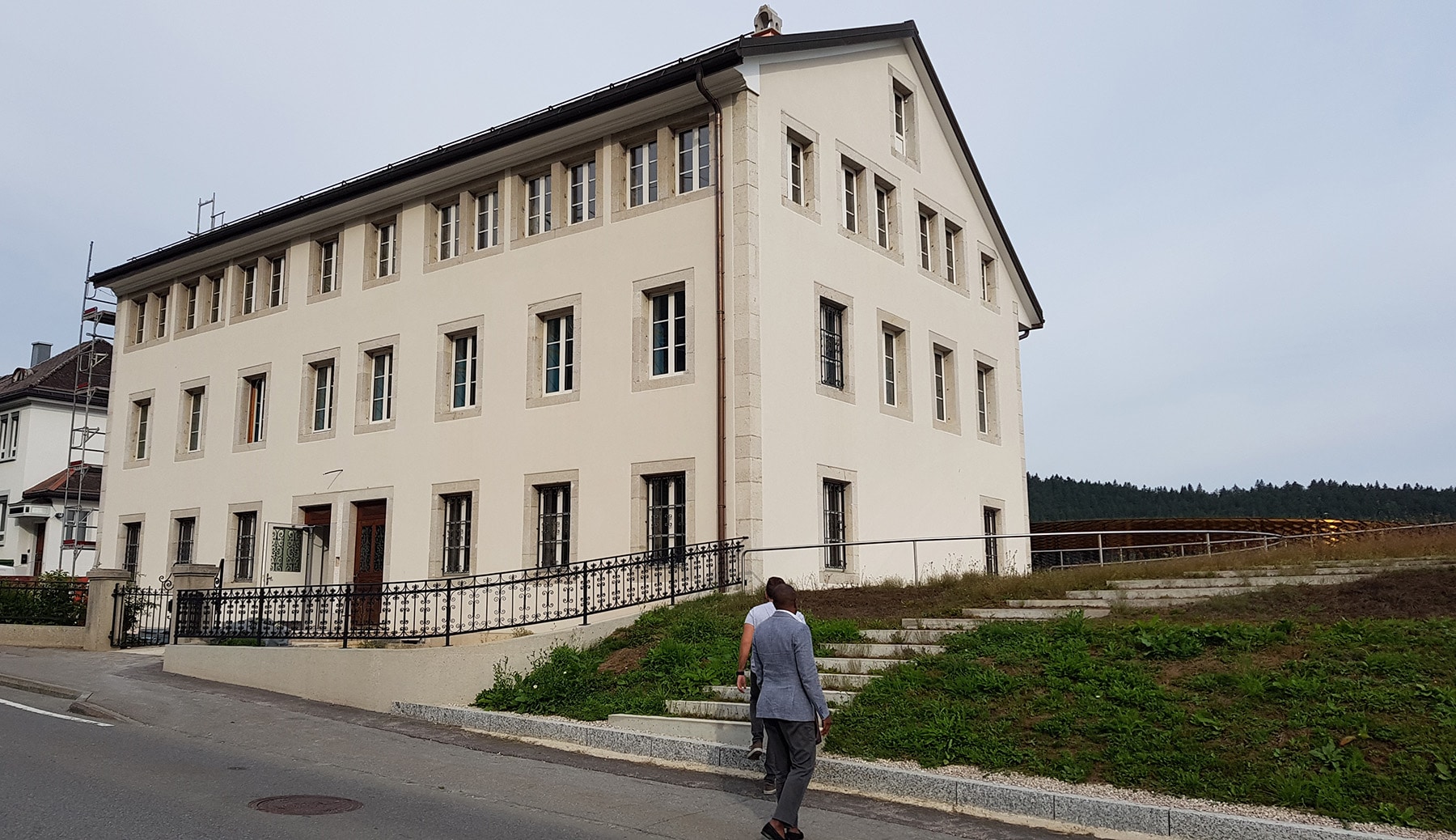 The original workshop and former home of the Audemars family.
Below the treetops, you see the roof of the new Audemars Piguet Museum, which opened in June 2020.
Due to security reasons photographing the inside is not allowed. However, I was allowed to do a few closeups. This one is the original Audemars Piguet sign from the late 1800s. Now hanging safely inside.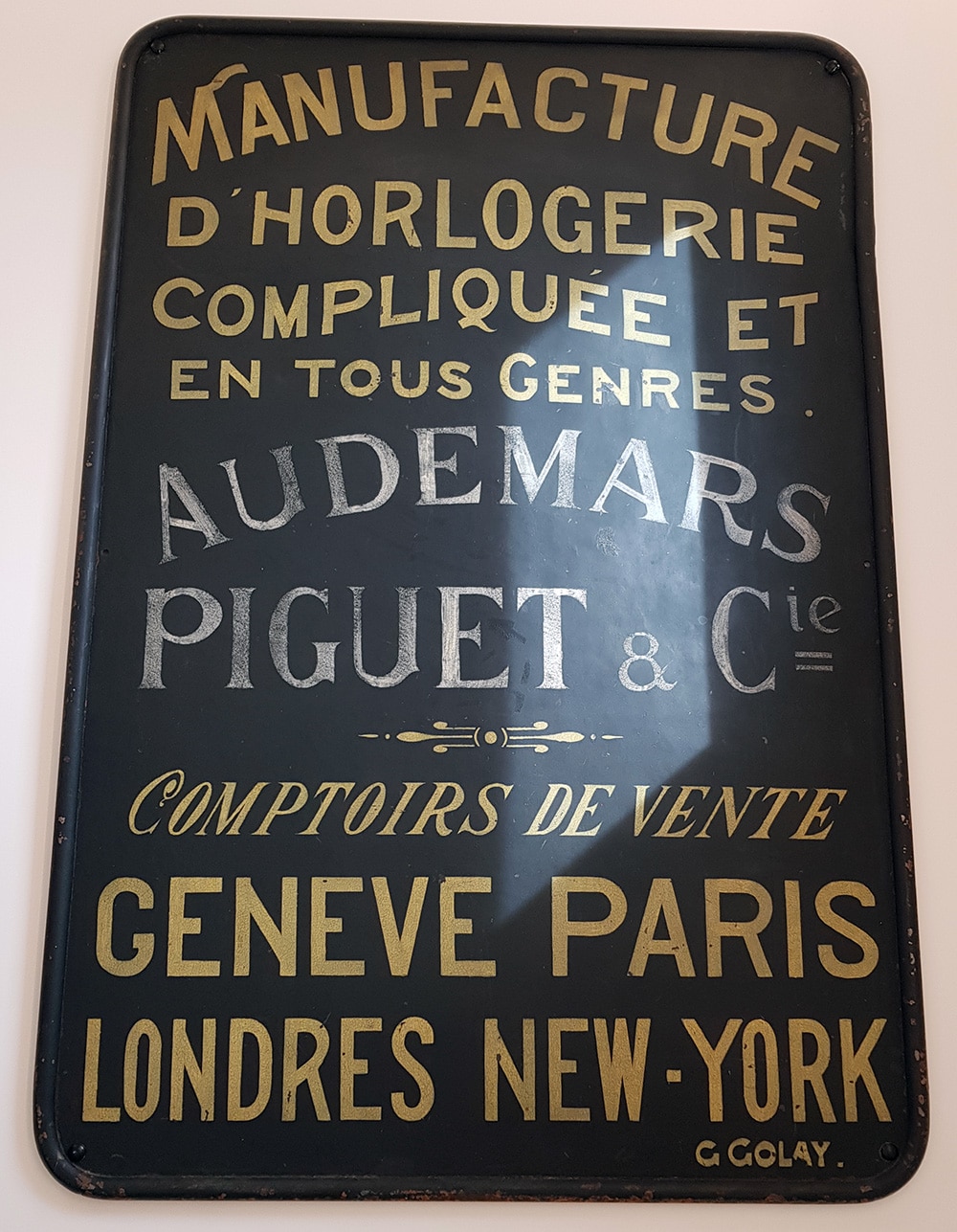 A room like no other
Entering the room where part of the Master Class will take place, fills you with awe. More personnel (including security) politely greet us. It's a very intimate setting. A mix of old and super modern. There's a special atmosphere here – almost like the room has a soul of its own. You can feel the humbleness of the crowd. It's quiet here – we are absorbing the impressions.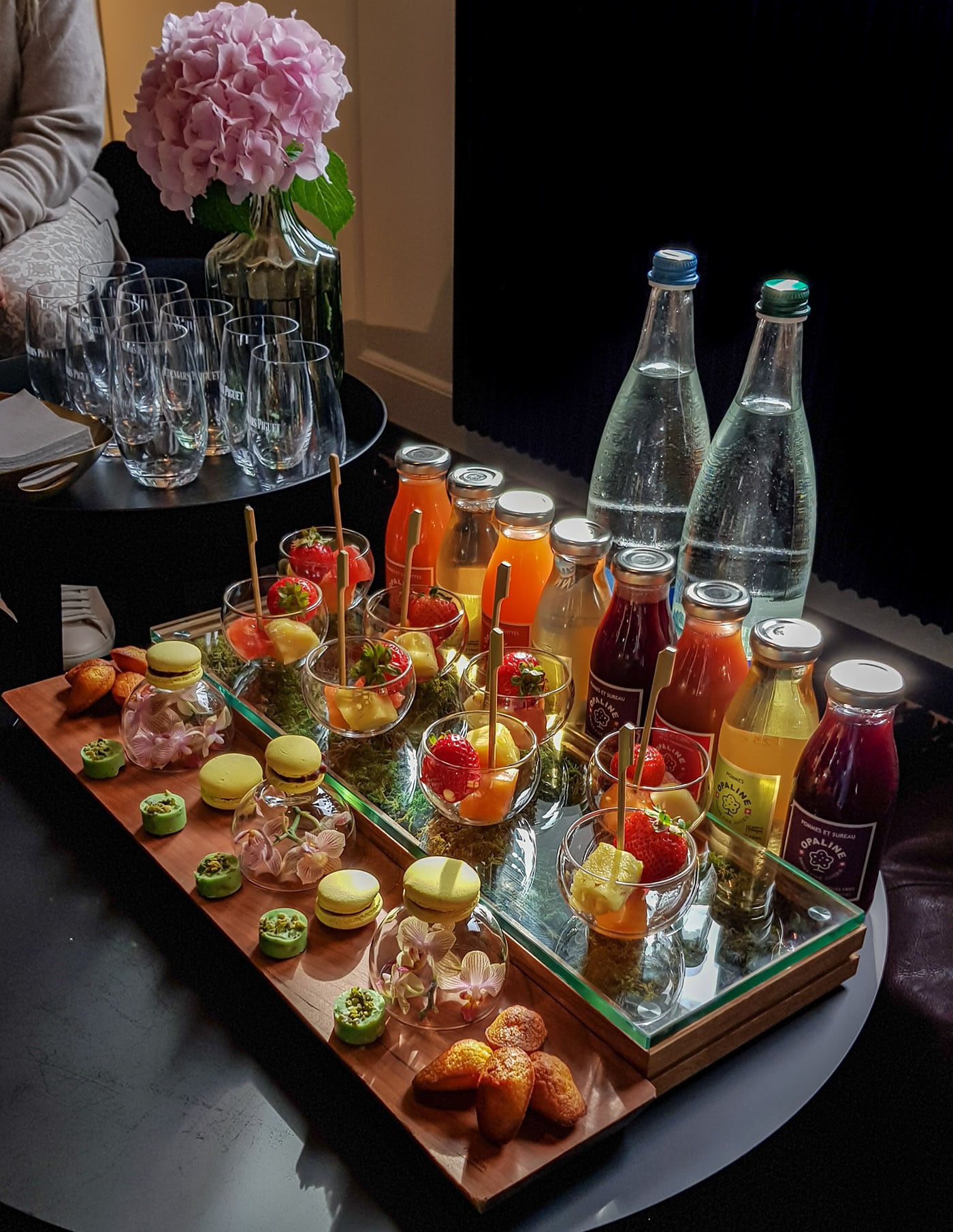 Michelin style snacks and appetizers. They spared no expense – deeelicious!!
Greeted in style.
A minute after our arrival, one of the senior managers enters to welcome us. He exudes confidence in a very positive way and immediately catches the attention of the group. I wonder where they find people with these character traits. But then again, since AP often have top celebrities visiting, I guess world-class hospitality skills are expected.
Making sure everyone is comfortable, he sits down with us and shares a bit of information about the Audemars Piguet history. Obviously, the Royal Oak gets a lot of attention, but we also went way back in time. Back to the days before any of the legendary watch brands were founded.
What the locals did before they started watchmaking.
Originally monks lived here, building infrastructure, and taking care of the land. Main occupation was farming in and around the Vallée de Joux. But during wintertime, farmers and lumberjacks stayed mostly at home – and they needed a hobby. Some started to experiment with watchmaking, and over the years the trend caught on in the region.
Little did they know, about the impact their hobby would have on the world of horology. Centuries later music and sports stars, head of states, Hollywood actors, CEOs and wealthy watch collectors all travel to the Vallée de Joux to visit the manufacture of this legendary brand. In fact, the interest to visit AP is so high, they are building the region's new Hôtel des Horlogers, designed by BIG. Opening in 2021, it will definitely attract current and future customers and watch enthusiasts. Especially when the word gets around how well they take care of their guests.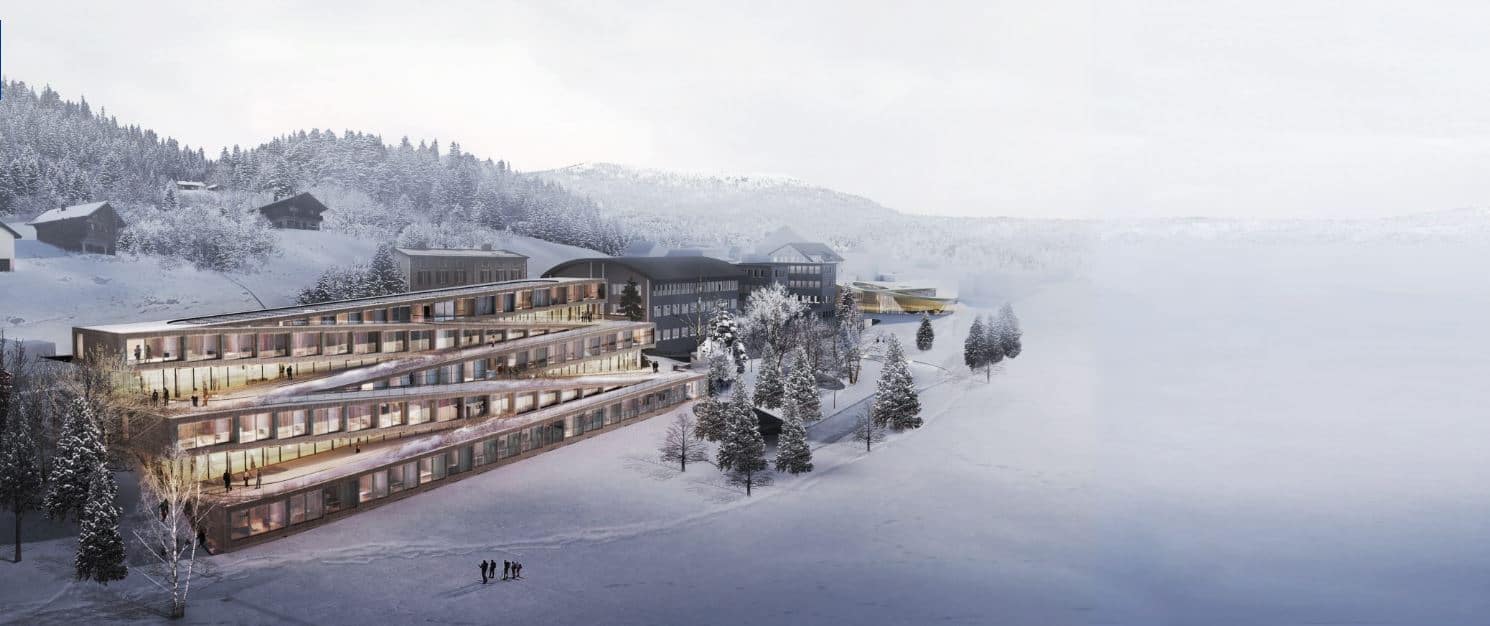 This is how the upcoming Hôtel des Horlogers will look like. The picture is from the BIG website – click to see more.
A family business in more ways than one.
But it's not only the guests and customers who get special care. Audemars Piguet is a company that takes their employer responsibilities seriously – as in really seriously. It is the only high-end watch manufacturer that is still owned by the original family, and the descendants of the founders play an active and vital role.
They have achieved tremendous growth and success over the last couple of decades. Going from around 300 employees in the early 2000s to more than 2.000 currently worldwide.
They carefully select the right people, and aim to provide a working environment and opportunities, that are second to none. When joining Audemars Piguet you become part of the family – and family means everything. No wonder the atmosphere is so positive, and why they all seem happy. A lot of companies could learn from this.
They can track every single AP watch ever sold.
In a massive safe, which can most likely withstand a nuclear explosion, all the original records are stored. All watches carry a unique identification code. Everyone who has ever bought a watch from Audemars Piguet – business or private – will appear in these records.
We were handed a replica of one of the old books, and it was really interesting to see how they were selling pieces in the late 1800s to customers across the world. All the details were written meticulously by hand, and every time the watches were sent in for maintenance, the records were updated. Due to this, they can track the "lives" of all the watches Audemars Piguet has ever made. It also makes it a lot easier to spot and trace stolen watches.
The Audemars Piguet Master Class begins.
Splitting up our already small group into two even smaller ones, 3 go to the workshop to test their skills as watchmakers. I join my friend I met on the ride from Geneva. It's time to inspect some watches, but not just any watches… One of the facilitators brings a tray with beautiful rare vintage pieces.
If I felt out of my element in Hamburg a few years ago, that was nothing compared to now. Do I just look? Can I touch? Should I try to say something clever? I chose to do nothing, and just act impressed, which came quite natural. We were told it's OK to pick them up, so I reach out for the pocket watch on the right.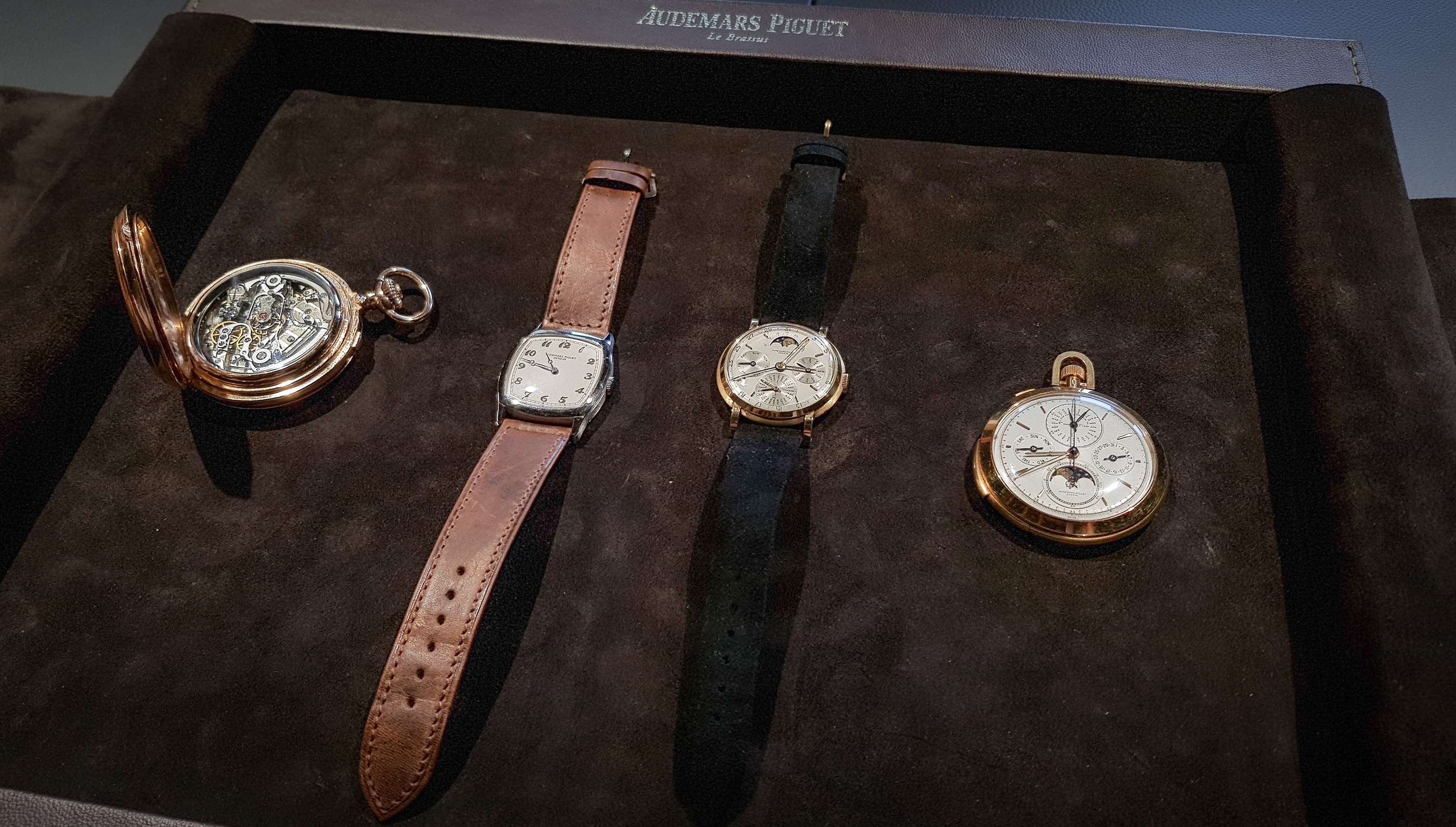 Rare Audemars Piguet vintage watches. Among them is the first Perpetual Calendar wristwatch from 1955 (only 9 produced).
"Wow it's heavy" – "Yeah – it's gold"
It's the first time in my life I hold a pocket watch, and this one is HEAVY, which I immediately commented. "Yeah – it's a gold Grande Complication" was the swift response from my friend at Audemars Piguet. Eyebrows raised – no further comments.
This beauty was made in 1925 – but wasn't sold before 1963. It consists of no less than 648 components. Today this type of watch is only produced on demand, and it takes 6-8 months full time to create and assemble a single watch – wow!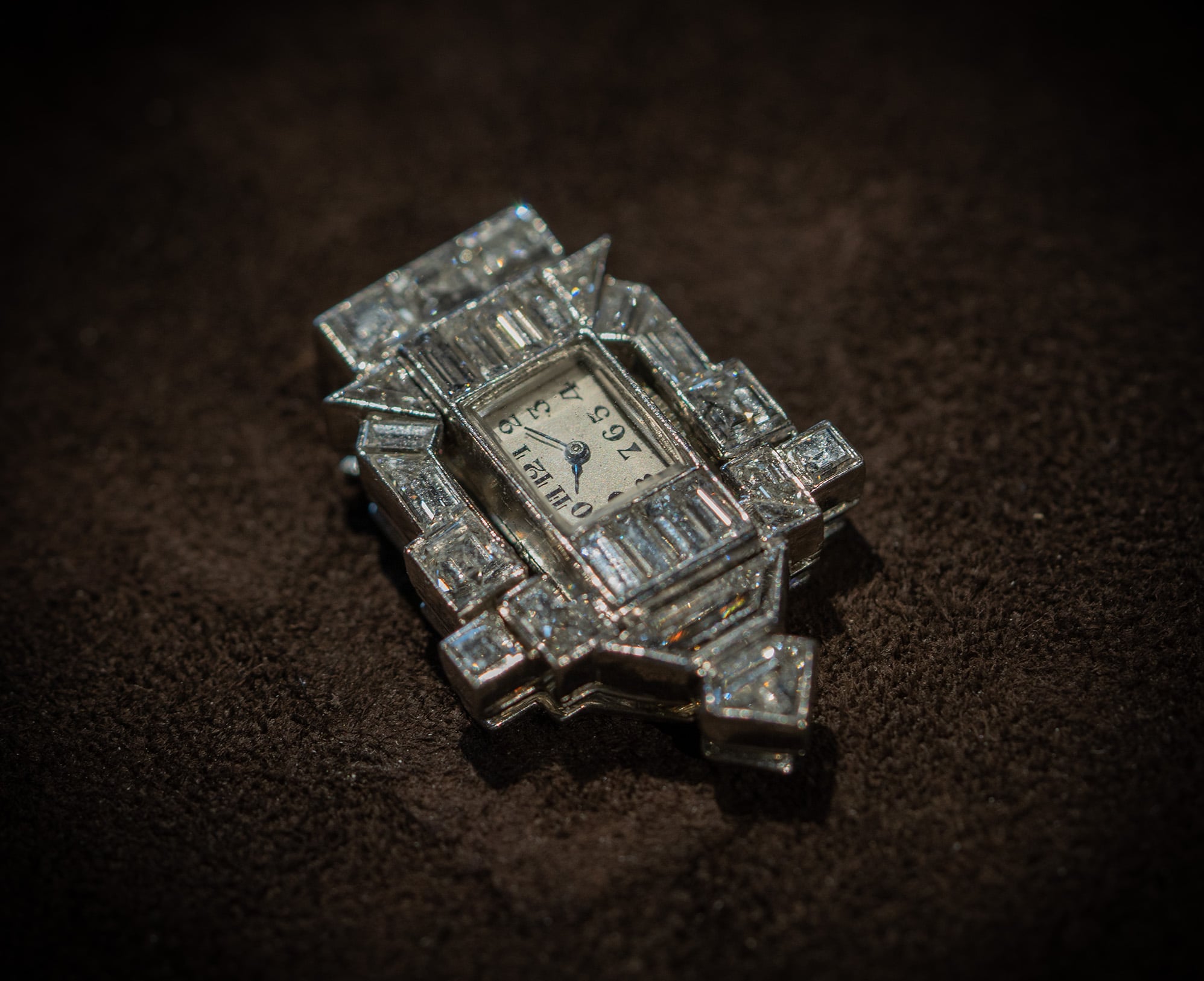 It's almost impossible to find a photo of this rare vintage watch anywhere.
Holding a unique piece of Audemars Piguet history in my hands.
The other Audemars Piguet pocket watch is one of the first they ever made. They could have easily fooled me, saying it was made yesterday, but it was actually created in 1889! It's in perfect condition and works just as well, as it did the day it was created.
It is an incredible and surreal experience to hold a piece of history like this in my hands. They told us we would probably be some of the last people to ever touch this watch, since it will be an important piece in the new museum. It will only be taken out again for very special occasions. She asked if we would like to hear the minute repeater. I nodded. It doesn't happen often, that I'm speechless. Needless to say, I didn't talk much during this session.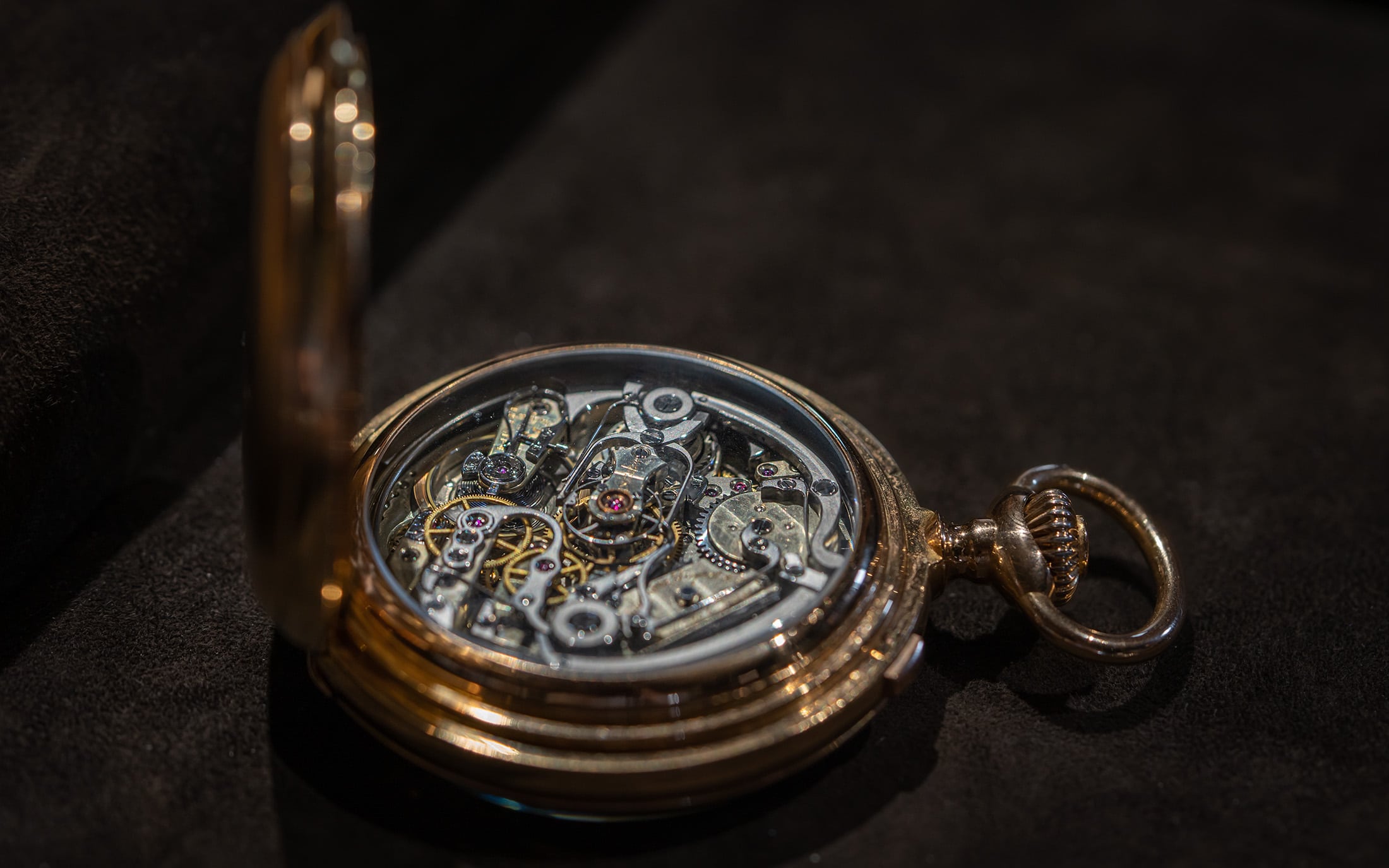 Except for my greasy fingerprints, this pocket watch from 1889 is in perfect condition.
And just as I thought it couldn't get more exotic.
Audemars Piguet has experimented with many different types of watches and designs throughout history. Below are two examples of watches, that are out of this world. Maybe not the most practical, but who cares about that anyway? This is art.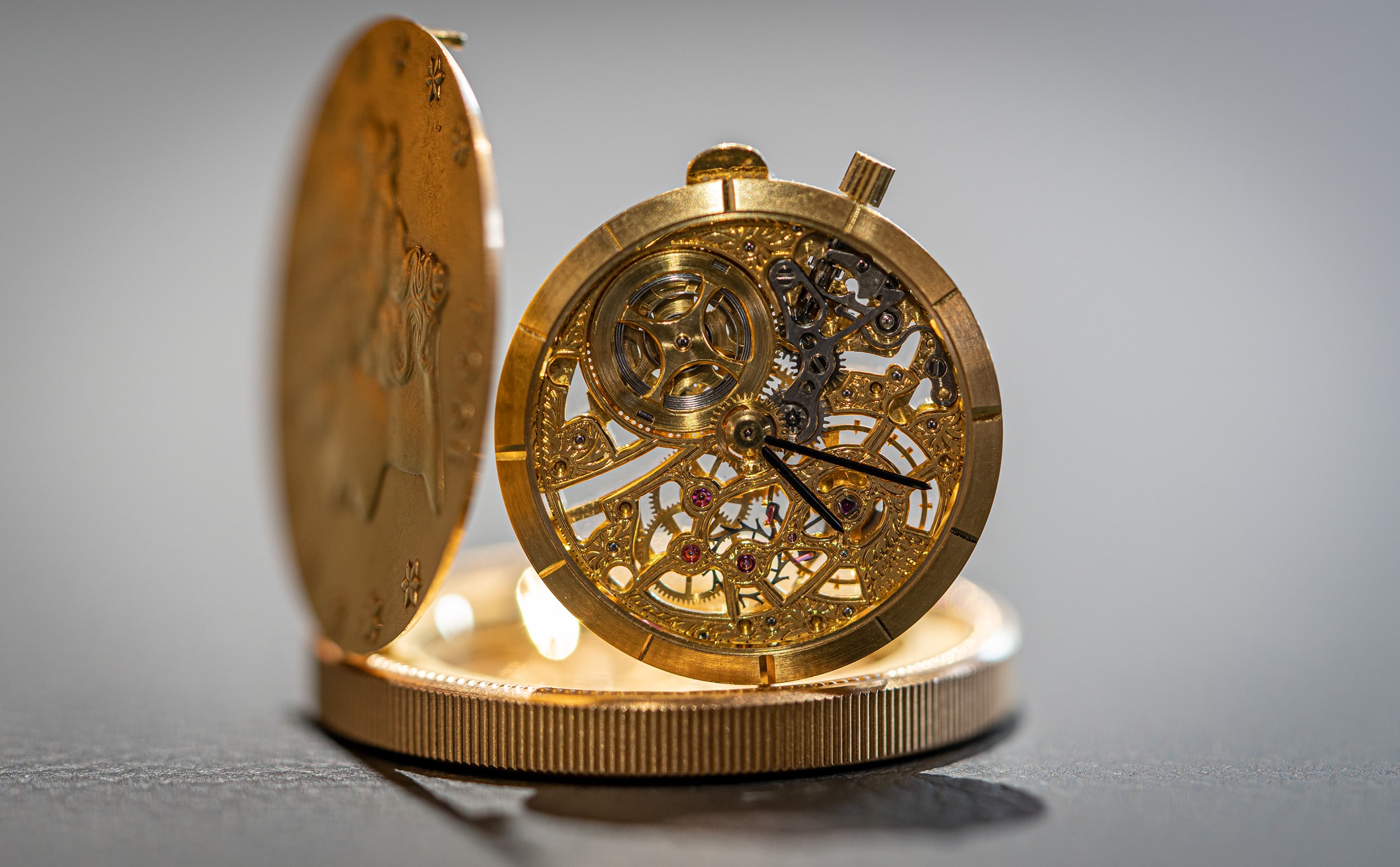 A skeletonized watch that hides inside a gold coin. Why not? Glad I brought the macro lens.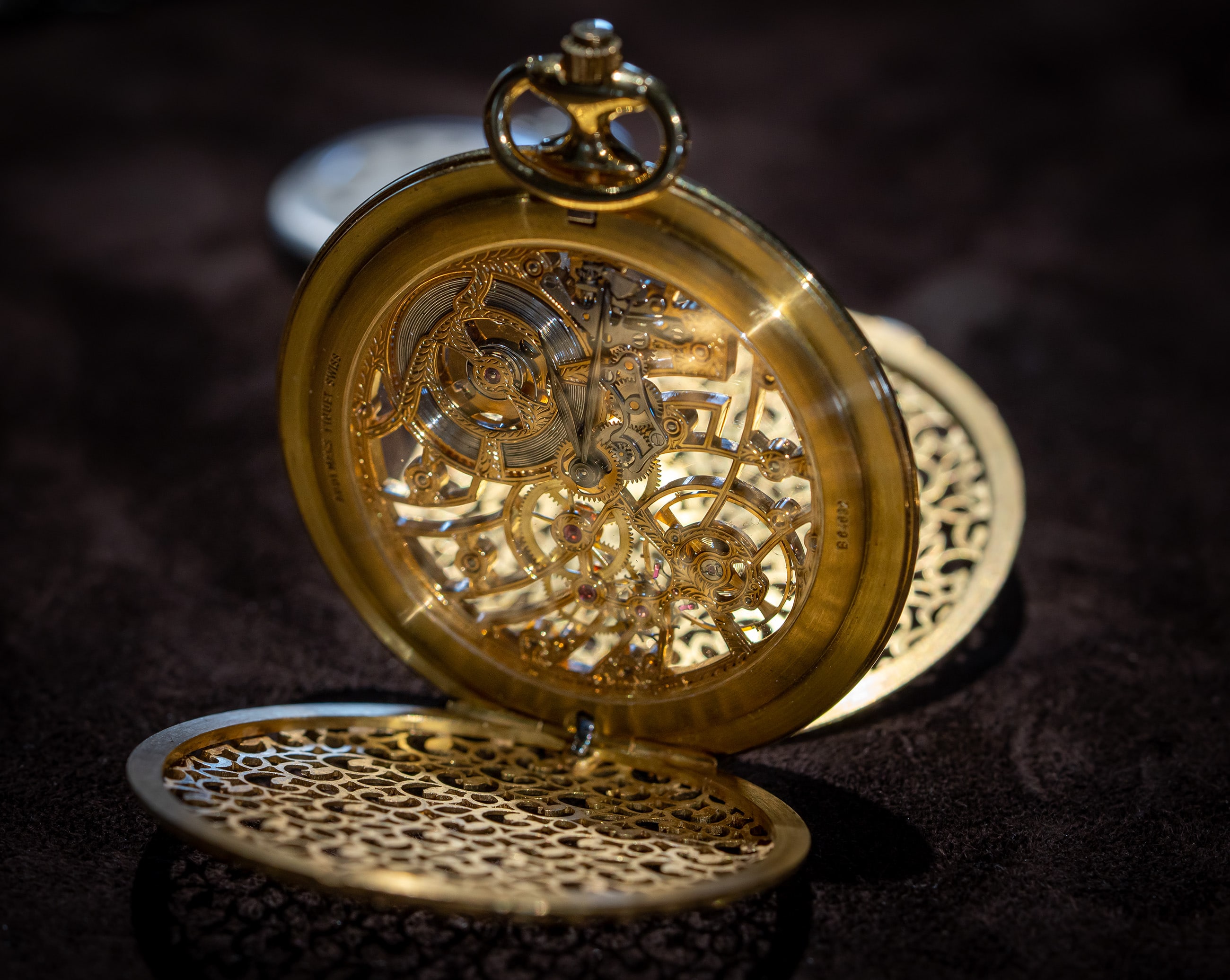 A skeletonized pocket watch in gold. If this vintage piece of art doesn't make your jaw drop, you need to have your jaw checked.
Time to test my skills as a watchmaker.
Switching the groups, we get ready to put in some work. A very kind and experienced trainer from the Audemars Piguet Academy is guiding us. We are going to assemble a part of a movement – also known as a watch caliber. I'm determined to impress him with a focused and efficient effort. I mean, how hard can it be, when you give it your very best?…
Turns out it can be pretty DARN HARD! Even Tom Cruise in Mission Impossible would have a hard time pulling this off. Luckily the watchmaker is a patient and positive man. He does his best to encourage me, though it's obvious to everyone that I'm failing miserably. However, it was a very fun experience though.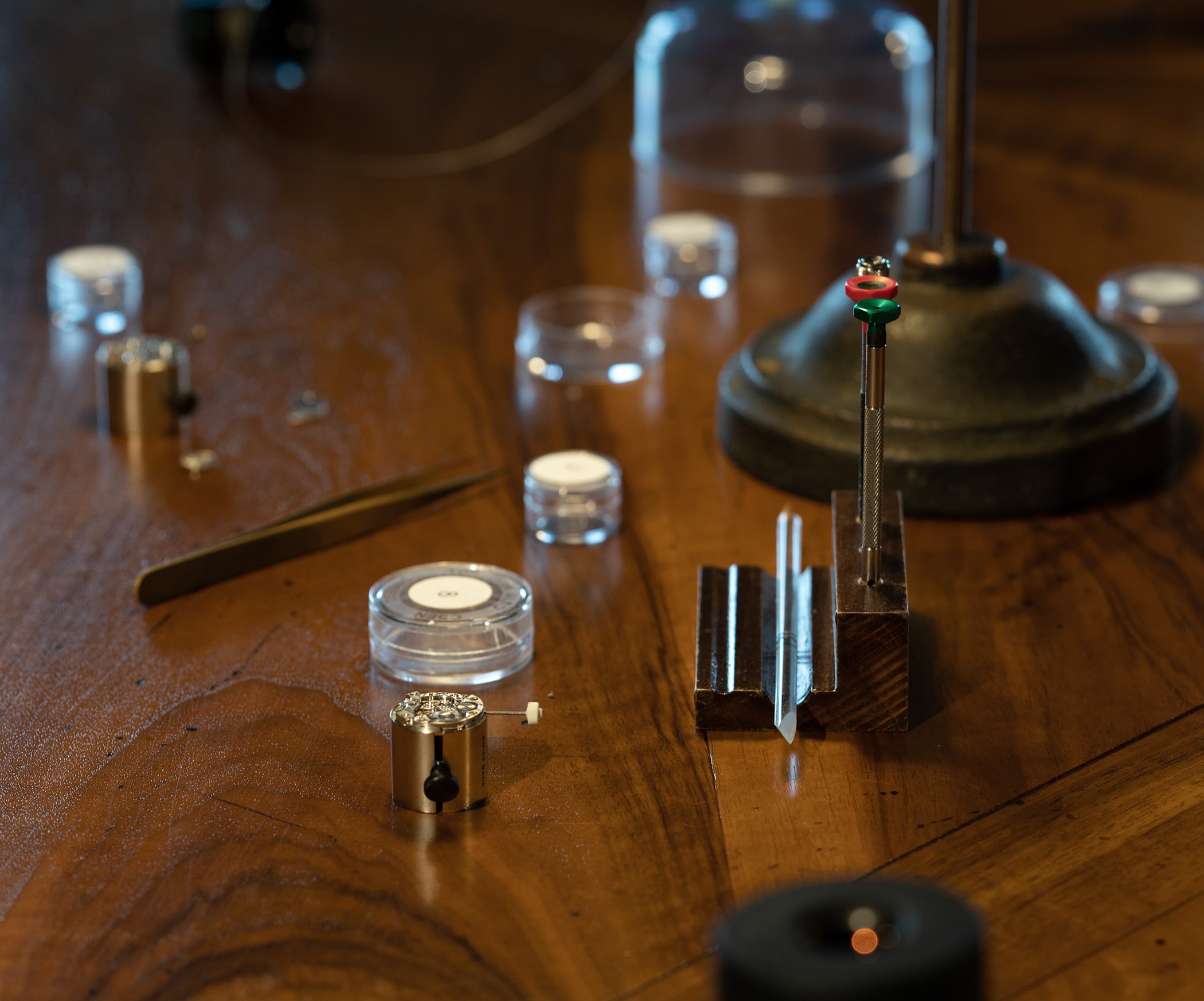 You don't need a lot of tools. Just the right ones, and REALLY steady hands!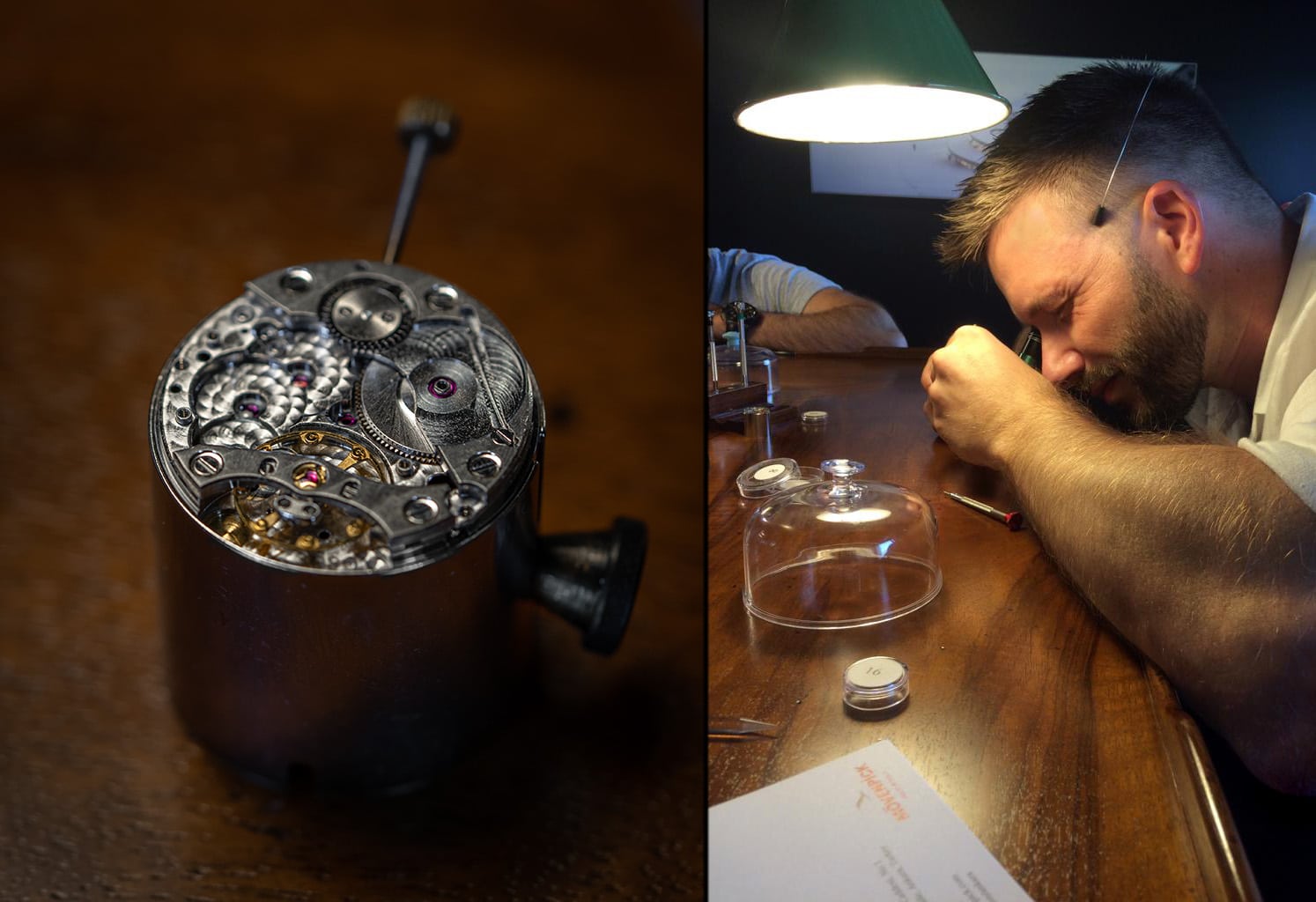 Assembling part of a watch caliber. After this session, I have the utmost respect for watchmakers. A great memory to take home.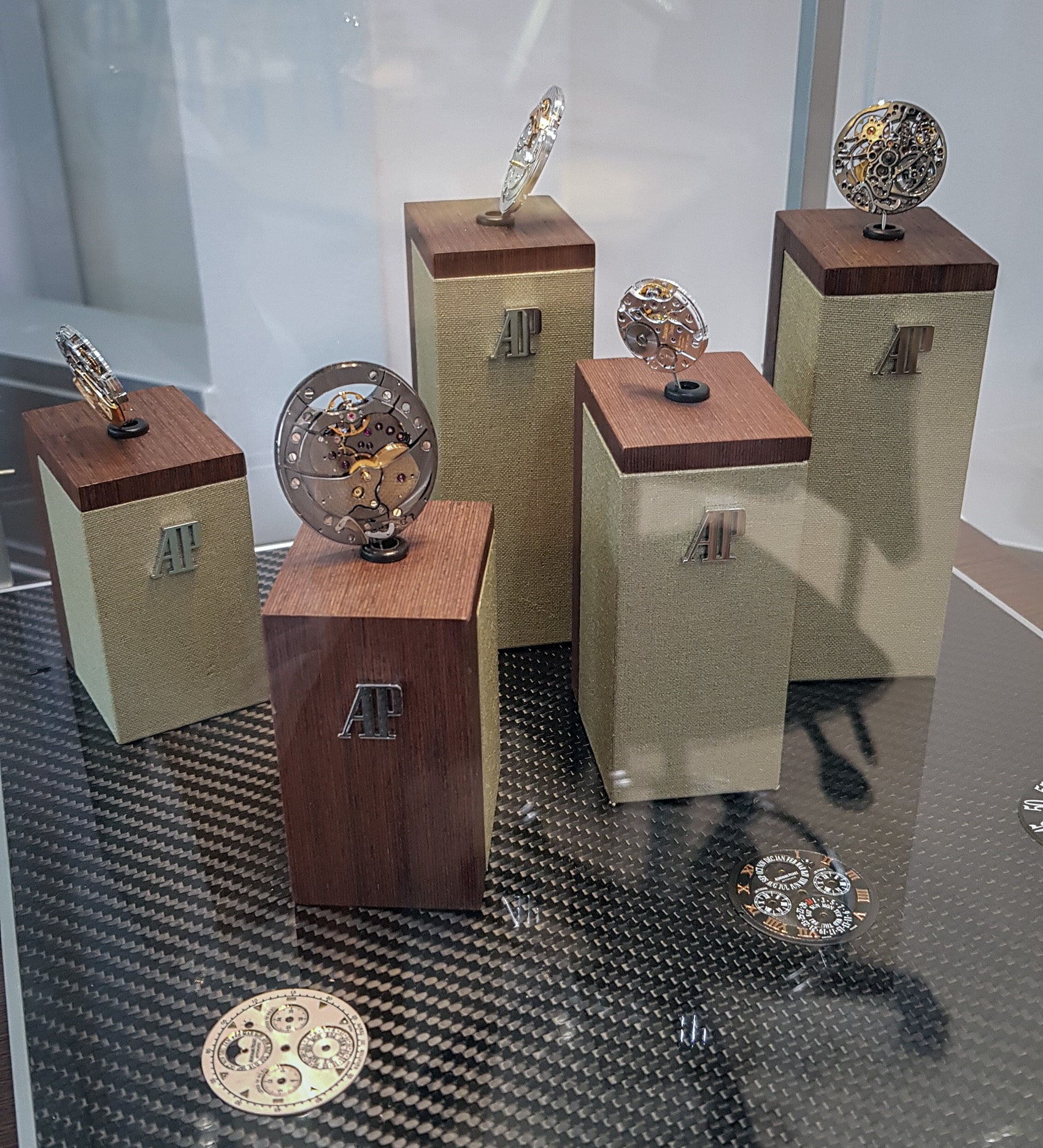 A display of various Audemars Piguet watch movements – also known as calibers.
Touring one of the workshops – not your average tour!
Time to move on. We jump into the van to one of the main workshops located a few minutes away. Watchmakers need quietness, so cellphones stay outside. That means no photos for you guys, but I will do my best to explain in writing, what I encountered inside this mysterious complex.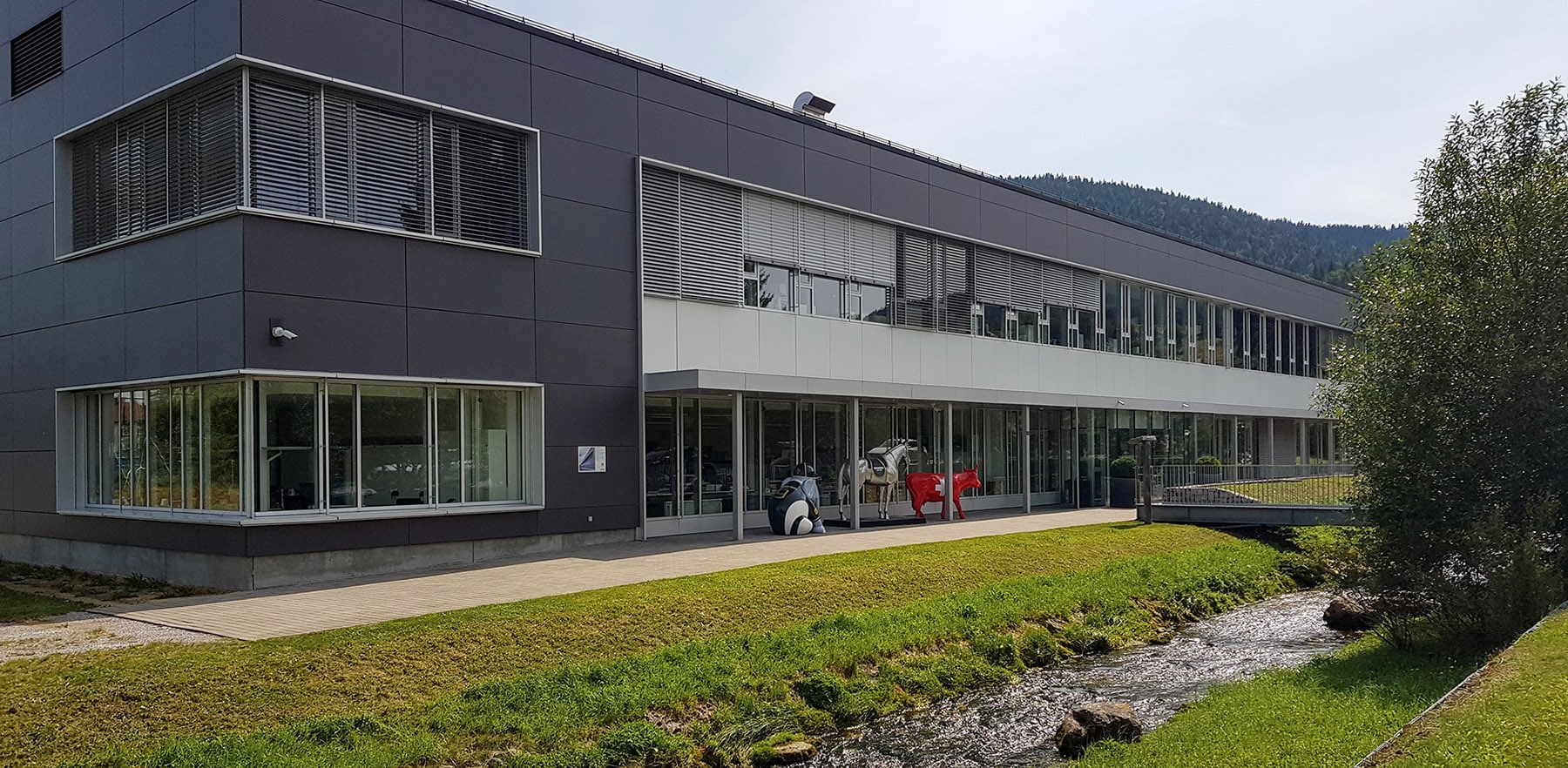 Inside this building, some of the world's finest watches are being made entirely by hand.
Entering the restoration workshop – this place is unreal!
You know you got the VIP tour when all employees lay down their work to come and greet you, the moment you enter the room. Welcome to the restoration department. Here they do maintenance and service on Audemars Piguet watches – produced mainly before 1950. A young woman and two guys work full time in this department. They have ~10, ~20, and ~40 years of experience.
This is like stepping back in time. There are old drawings, a cabinet full of original vintage spare parts, original tools, and high-tech stuff. Everything is done by hand, and there is A LOT to learn! The woman tells us about the day she restored her first watch completely on her own. That was after working and learning for 8½ years !! Yes, you read that correctly. Depending on the complications, it can take weeks or months to service a single watch.
Superpowers: patience and steady hands.
On a workbench next to us, they show us one of the tiniest parts of a watch. You can hardly see it with your own eyes, so we use a magnifying glass. How on earth they managed to do tiny grooves and facets on something so small, I have no clue. How they manage to assemble this in a watch is even crazier.
To maximize stability, they sometimes have to bite a small cushion in the workbench. This ensures no head movements and even steadier hands. We all had a good laugh about that. A natural way to react when you experience something that blows your mind.
No wonder these watches cost a fortune. Audemars Piguet employs some of the most skilled and dedicated artisans in the world.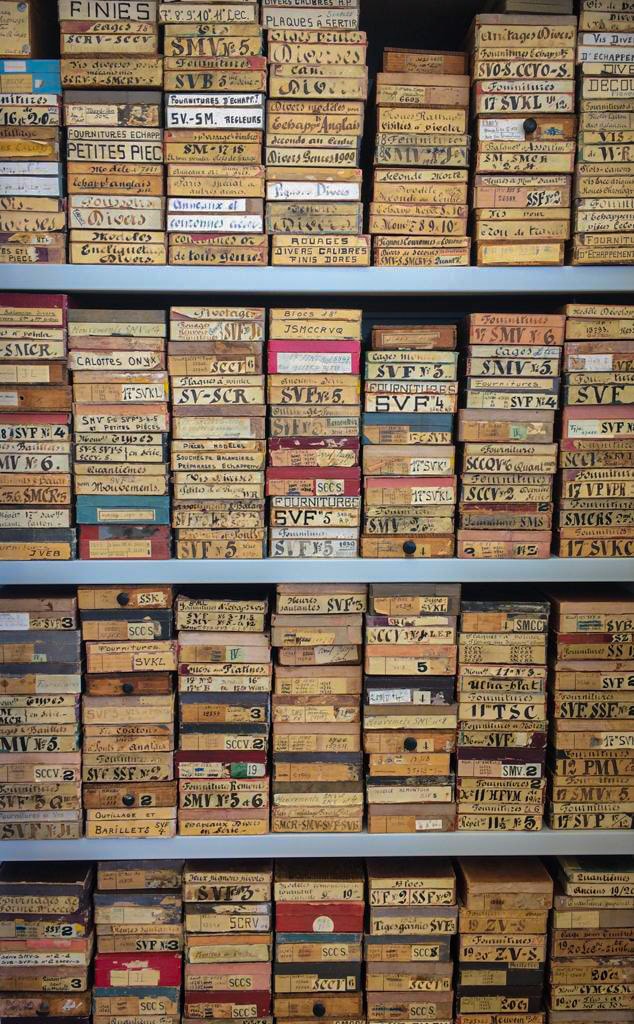 Entering one of the main workshops – blue shoe covers on.
Time to see some brand new watches in the making. We can talk but need to keep the volume down. There are around 10-15 watchmakers in this workshop, and each of them assembles every single watch from start to finish. It's a crazy scene when you think of it – almost looks like an army of "mad scientists" with their eye loupes and their elbows high on the workbench. All deeply concentrated working on these small pieces of art, that will soon adorn the wrists of some of the most wealthy and powerful people in the world.
We approach one of them. He has 5 Royal Oak Double Balance Wheel lying on his workspace. One from our group says: "wow, you don't see that every day". True, you probably won't see that – ever again. Another precious memory to keep.
Lunchtime – VIP style of course.
All this walking around makes you hungry. After a very exciting tour, the van waits for us outside. It's a short drive to Bellevue Le Rocheray, where we enjoy a fabulous lunch. Located next to the beautiful Lake Joux, the largest lake in Switzerland more than 1.000 meters above sea level.
Audemars Piguet spares no expense – and my friend from AP entertains the group with stories and details about Audemars Piguet and other watch brands, that I think nobody else knows. This guy is a legend, and we are all cheerful and wiser by the time we have to head back.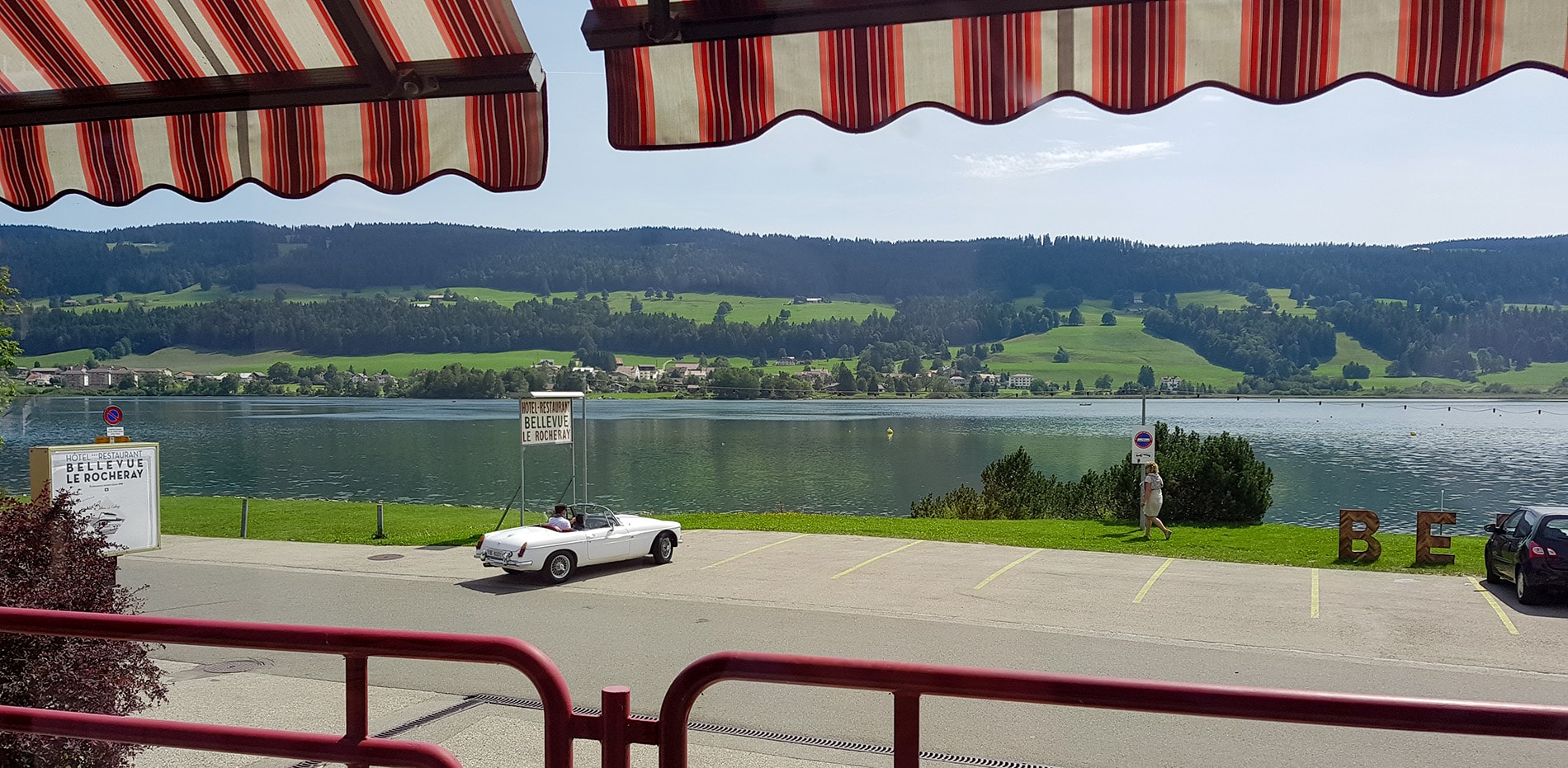 Continuing the Master Class.
We are back at the headquarters, and it is time for me to redeem myself. We are to decorate our very own souvenir, and once again the AP watchmaker is heading the show. After a brief introduction, we all take a seat at a workbench.
I get ready to add some real value to this coming masterpiece of mine. The watchmaker cheers me up by saying it's not that hard if you keep calm and focus. He is an optimistic man – trusting my 10 thumbs. It doesn't go quite as planned.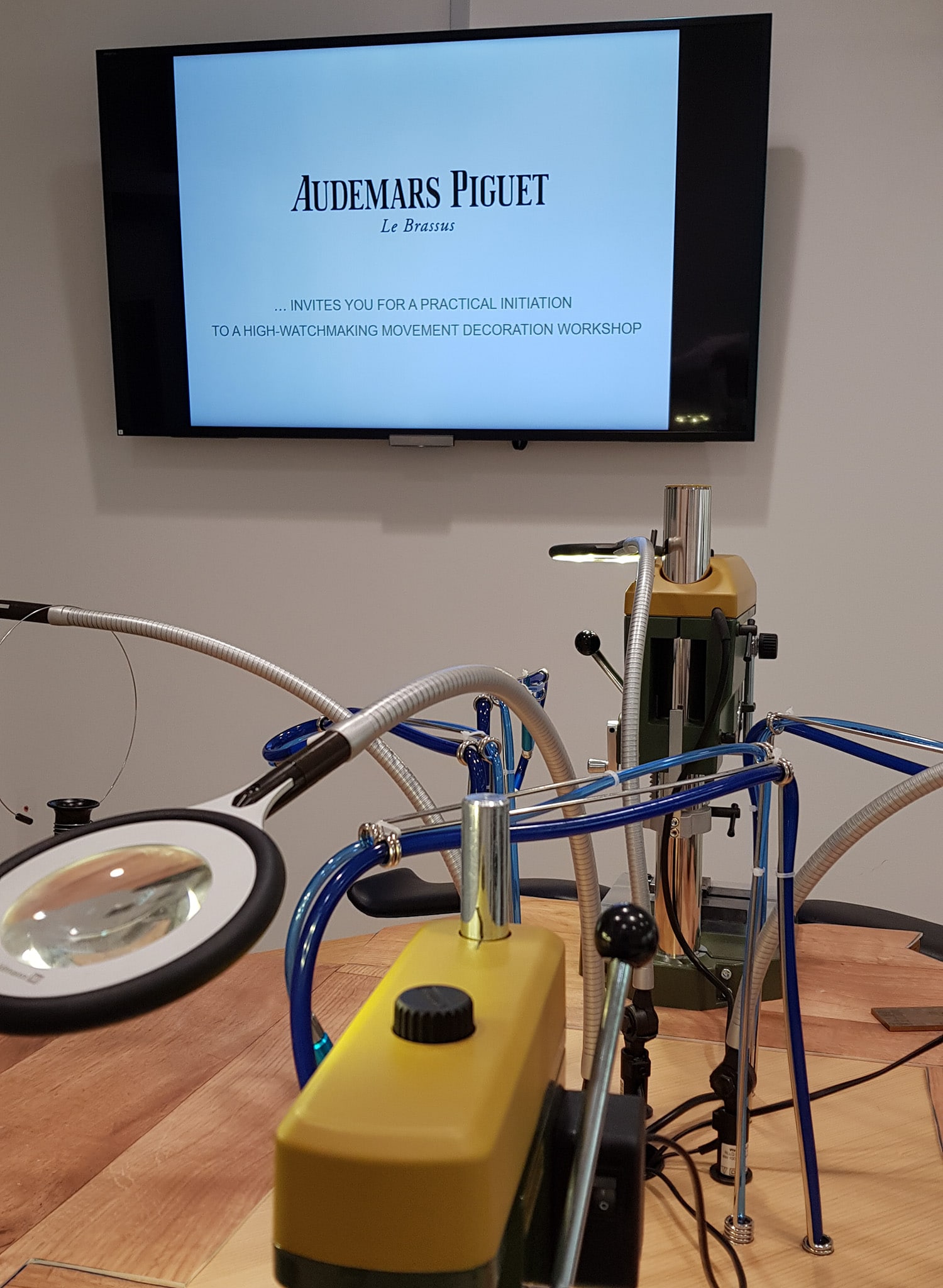 Movement decoration workshop. We got our own workbench to test our skills as watchmakers.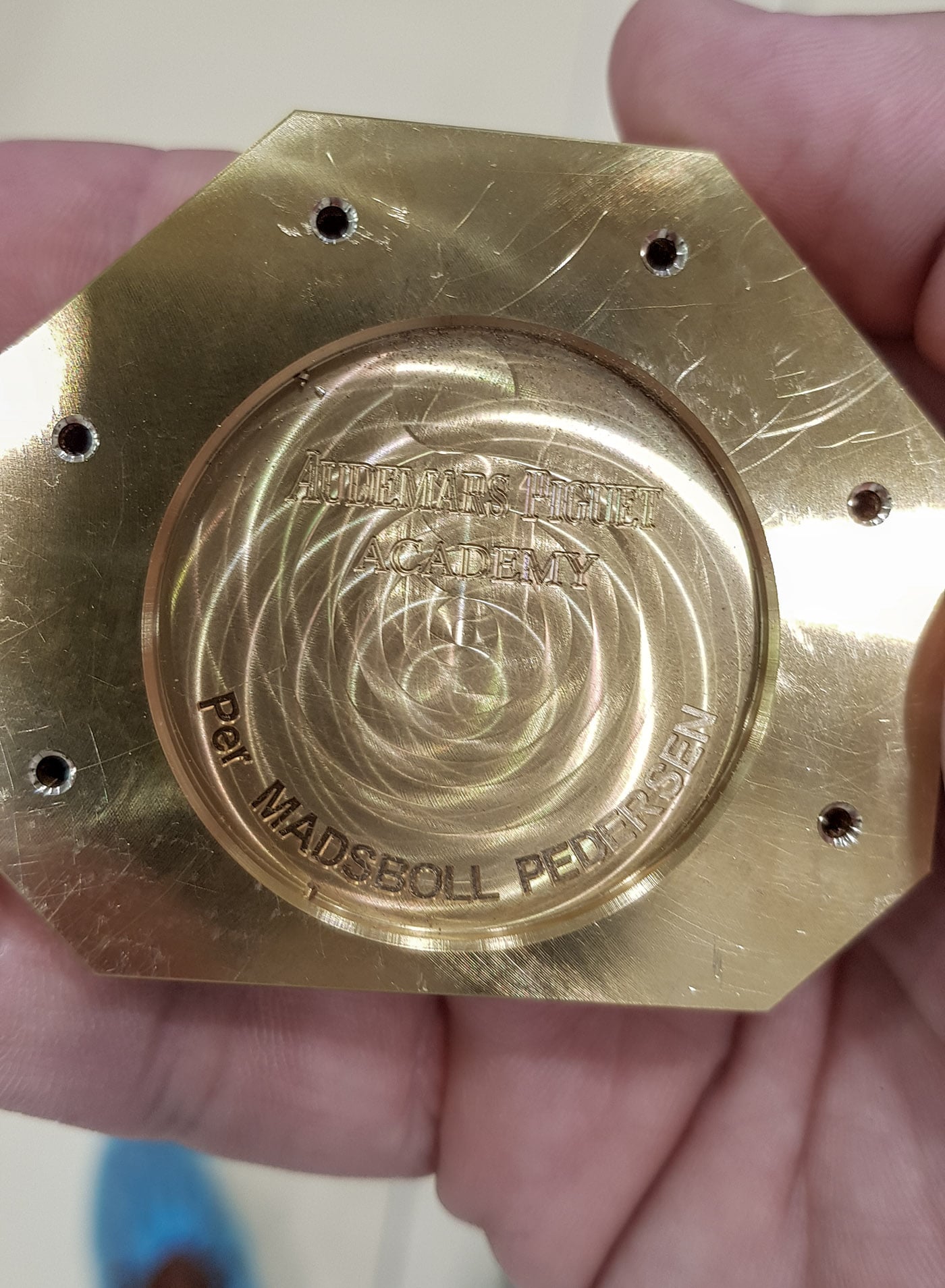 Each of us got a raw piece of metal similar to a watch case with our name engraved in it.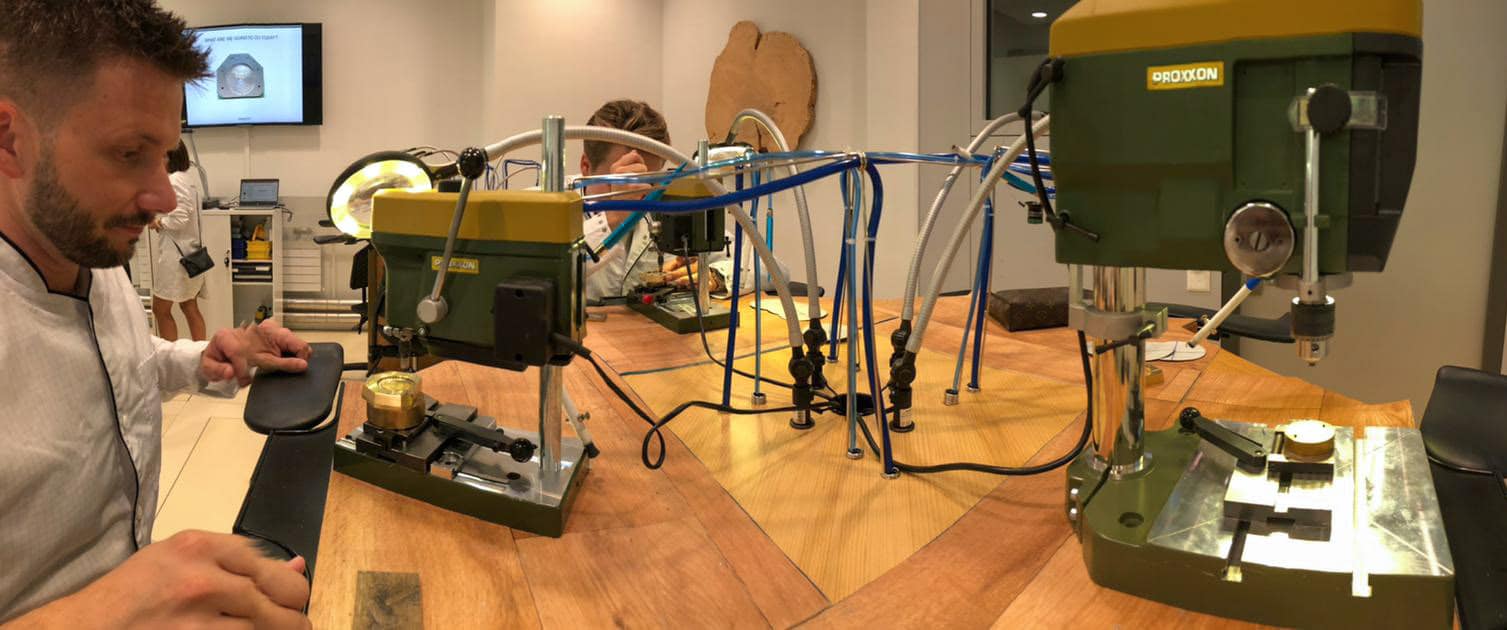 This is me looking frustrated. The guy at my table is both faster and better than me.
It's really simple, they said…
Turn it a little bit, and gently press the handle down to polish a nice little dot. Repeat until you've gone all the way around. What could go wrong? Well, I could make a list of 50 things, but I'll just say that I was by far the slowest in the group. However, with lots of support I eventually came through with a "decent" result.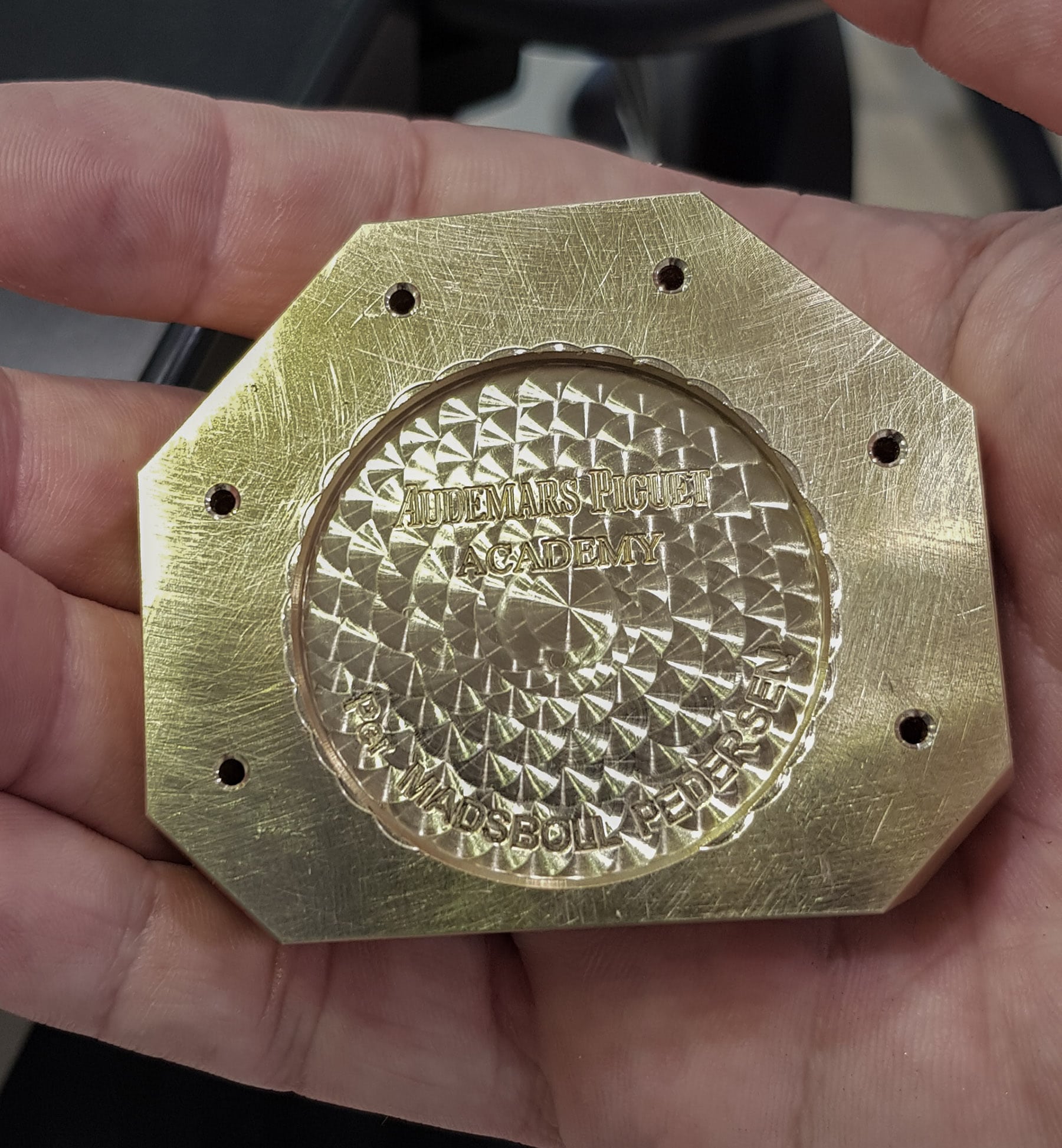 Step 1 of the decoration process complete.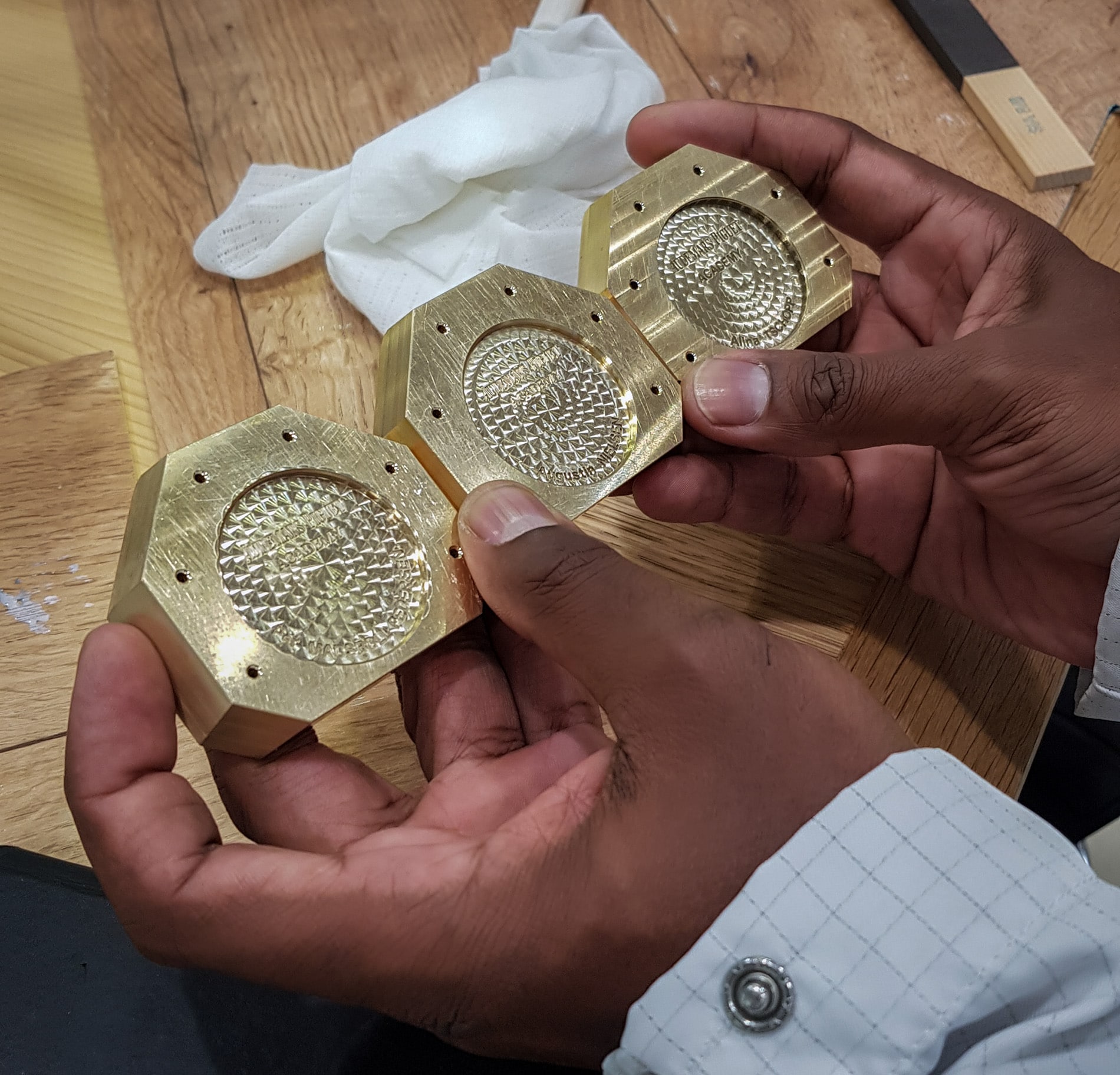 Quality inspection and evaluation. To my surprise, my work was in the better end of the pieces.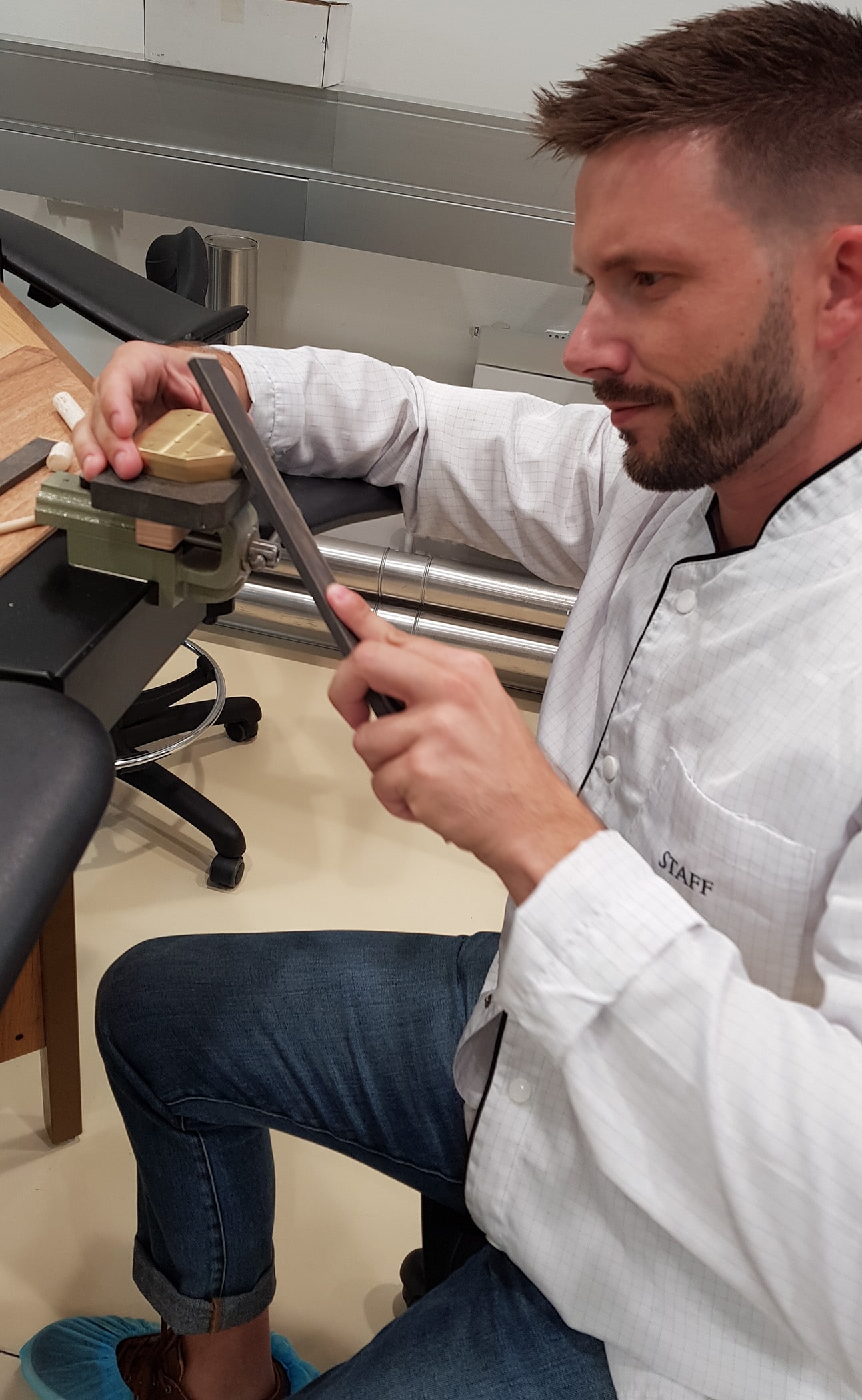 Filing and polishing the edges. This has to be done in a very specific pattern and angle. Concentration level: 10/10.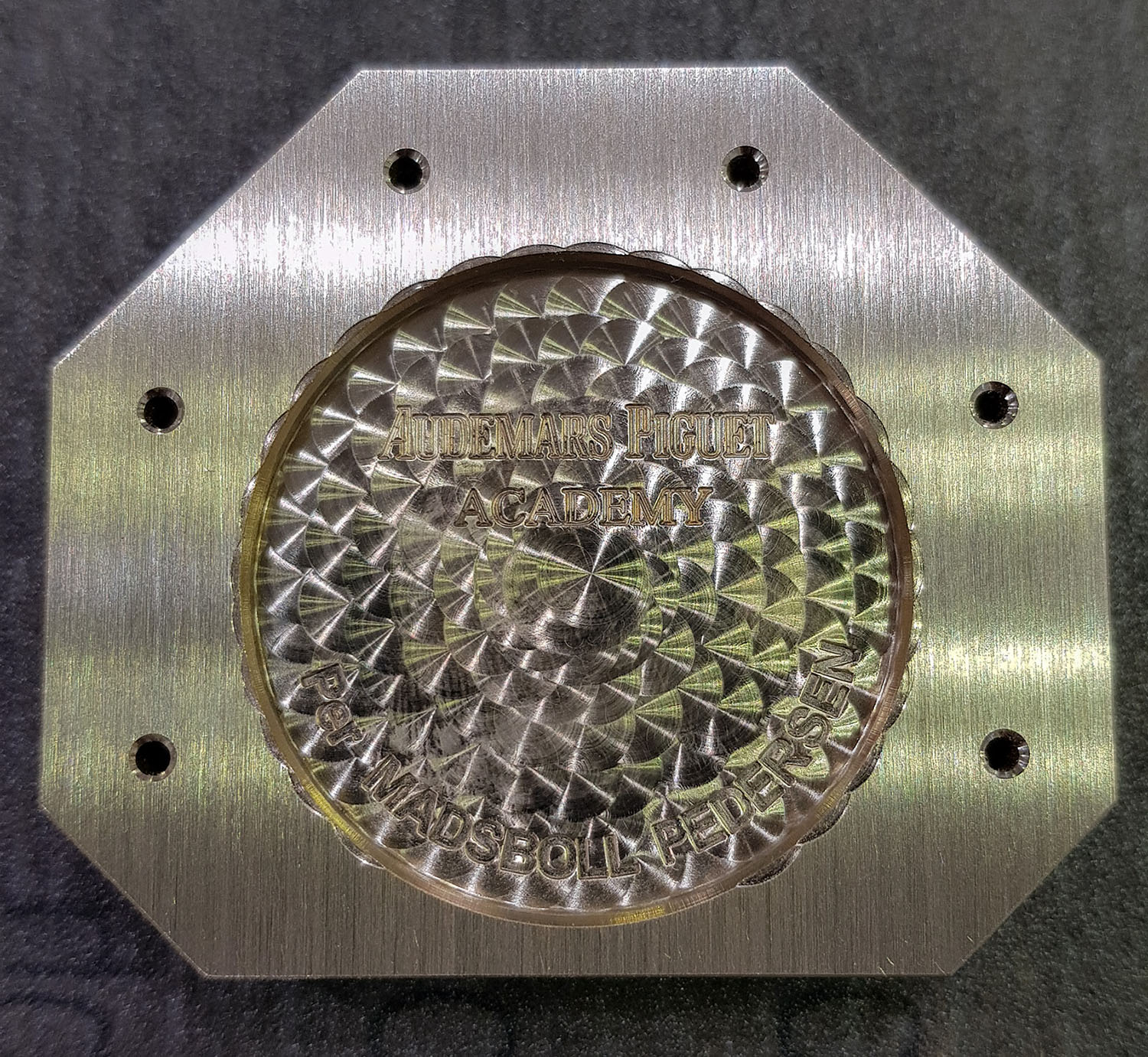 The result after carefully stroking the piece over coarse sandpaper. Keeping it straight forth and back is not as easy as you might think.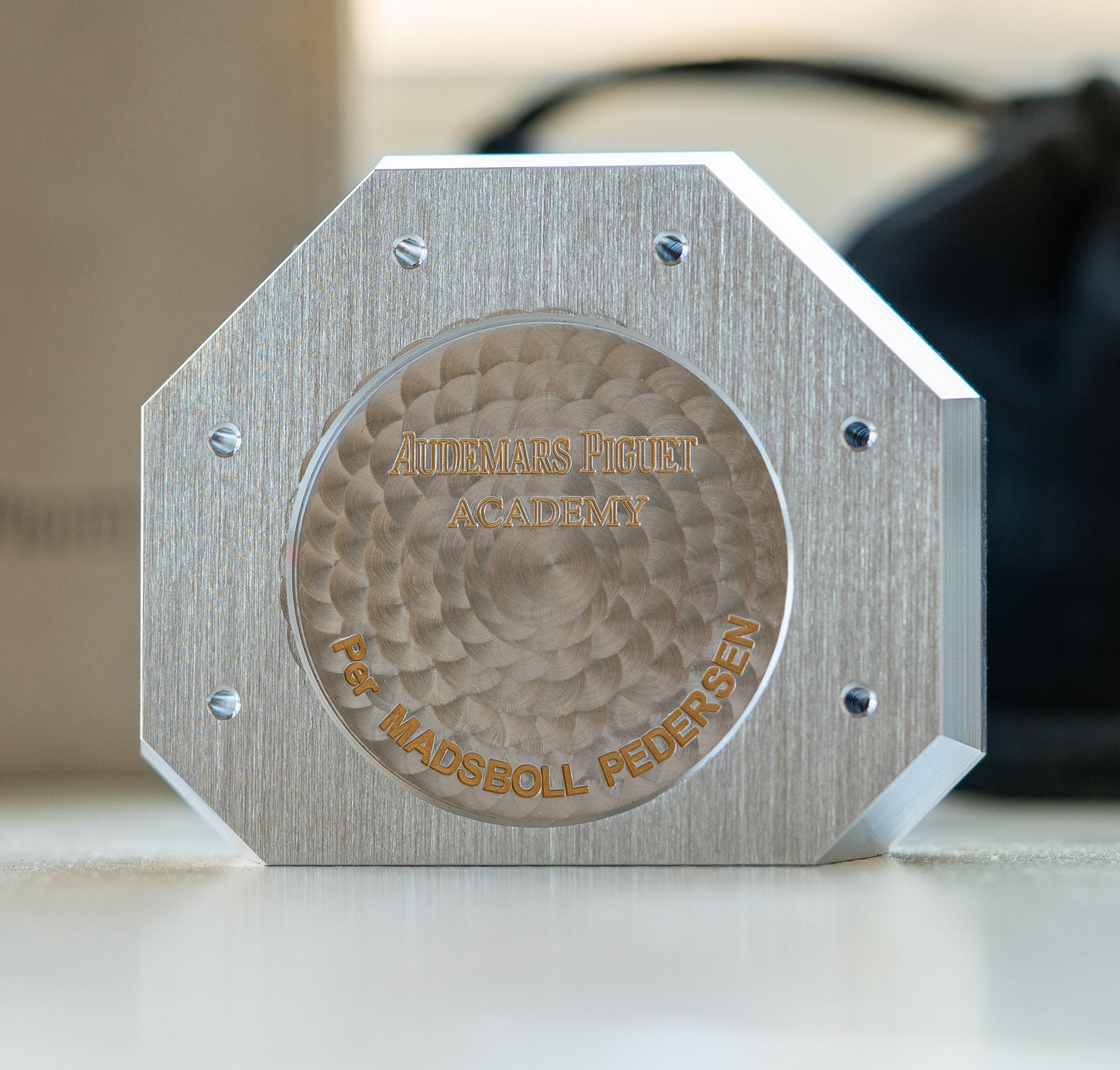 The piece had to undergo special treatment/coating in the weeks after our visit, and was delivered by courier service.
Wrapping up the Audemars Piguet Master Class.
What a day! This tour must have cost AP a fortune, but all they were focused on, was to give us the best possible experience. Hospitality score: 100/100.
Though I don't expect to be headhunted by AP anytime soon, I am very happy about how my souvenir turned out – and grateful to have tried and tested my skills as a watchmaker.
It's time to say goodbye to our hosts and part of the group. We get a bag of small gifts on the way out as if we hadn't had enough already. This company is unbelievable. If you are ever lucky enough to get an invitation to visit Audemars Piguet – cancel whatever plans you have in your calendar!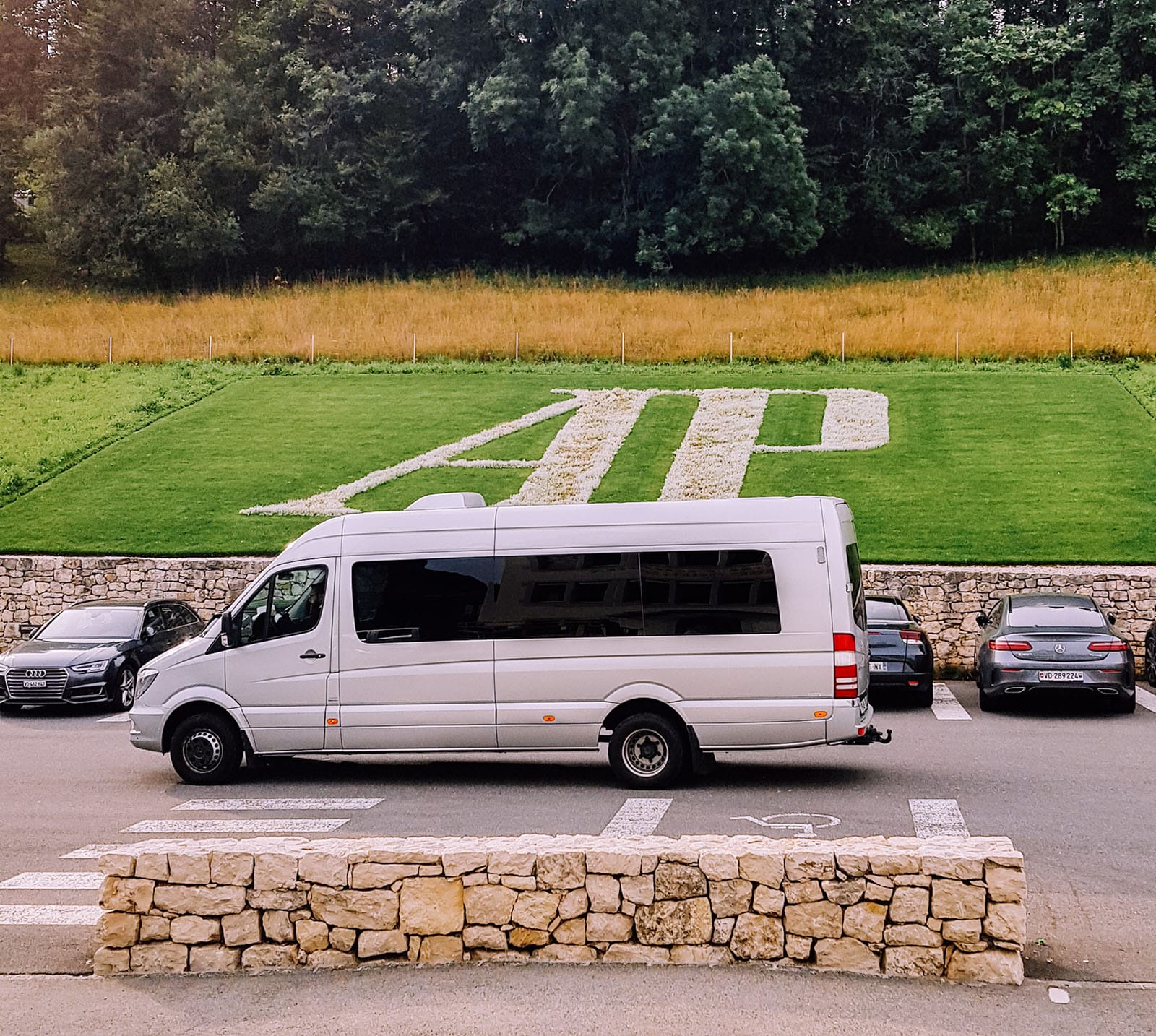 Time to drive back to Geneva. The Audemars Piguet Master Class is done for now.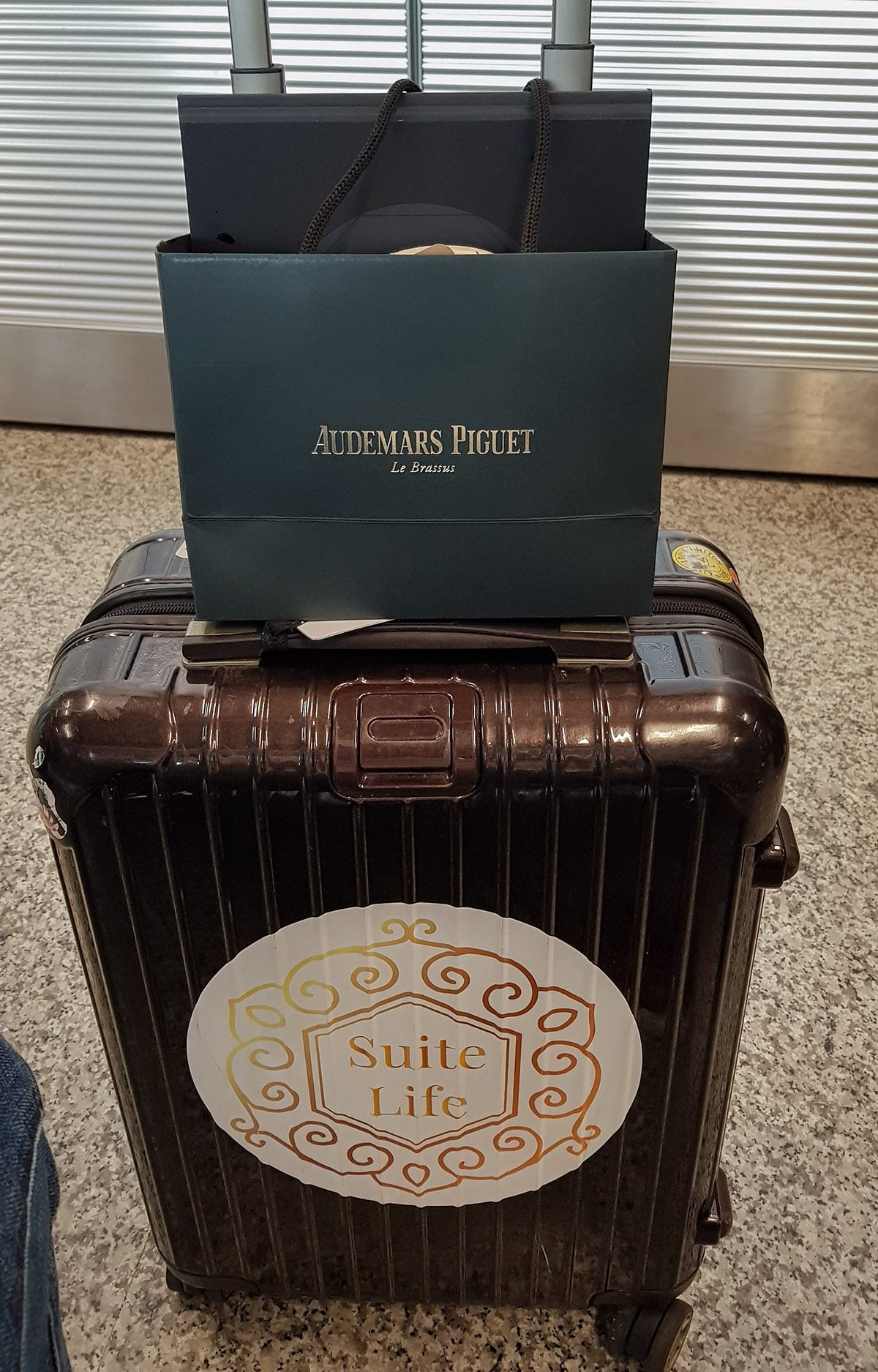 In the airport with my bag of souvenirs and memories for life.
Final words:
I might be labeled as sentimental when I say this, but I was honestly emotionally touched when I was invited into the heart of this legendary brand. Meeting the passionate artisans who have dedicated their lives to master the arts of horology. Experiencing the unique atmosphere that surrounds this mythical place. And thinking of the fact that this brand will outlive all of us, our children and grandchildren too, you feel a sense of awe.
They say nothing lasts forever, but if Audemars Piguet stays true to the values of which it was founded upon, I think they may have a chance to stick around until the end of time.
Thank you for reading and a huge thank you to Audemars Piguet for having me. I sincerely hope to be back someday!
/Per M Pedersen
The post Audemars Piguet Master Class in Le Brassus, Switzerland. appeared first on Suite Life.