A couple of weeks ago Loanne and I whisked my Mum away for her belated birthday present. 
The criteria were as follows; Sun, seclusion, a private pool with stunning views, not too far on a plane and somewhere blissfully relaxing. So not too specific… Ha! Our options were whittled down to one place that fit the bill perfectly! 
Nestled in a private and secluded bay on the northeastern island of Crete, (the largest of the greek islands) Daios Cove is nothing short of spectacular.
Below I have outlined why this is the ideal place for anyone looking for a serene, secluded and beautiful getaway. Oh and my mum LOVED it, as did we!
With a 50 minute drive from the airport, there's no need to worry about transport as the hotel provides free transfers to and from the hotel… and in a Mercedes, which gives you a little taster into the 5* luxury you are about to experience ! Upon arrival we were greeted with delicious welcome drinks and a tour of the resort & villas, the view of the bay from the hotel is simply breath-taking and the crystal clear water could have you fooled that you've arrived in the Indian ocean. The interior exudes chic and modern vibes with it's plush fabrics, refined colours and  Italian touches. 
My favourite part of Daios Cove had to be our deluxe rooms which opened onto our very own private veranda equipped with a sofa, table and chairs and our very own private pool with unparalleled views of Vathi bay. This is the ideal spot for those who prefer to have their own privacy when sunbathing, chilling or swimming. Although there are rooms either side of you, you still feel a sense of seclusion & stillness as you are nestled away in the hills. This is the perfect spot to have some quiet time, even do some meditating and some star spotting in the evening. (One night I lay by the pool and saw 3 shooting stars!)
We spent most mornings catching the sun on our veranda and when the sun slowly dispersed from our terrace around midday we headed down to the private beach,  a 10/ 15  minute walk by foot. For the more sedate of you there is a glass elevator at reception that takes you almost down to beach level.
For those who aren't too fussed about privacy and don't mind being around people, the beach is small and intimate and generally pretty full come midday. The sea however, is absolutely stunning, crystal clear and as smooth as sea can get, there is also a variety of water sports to get stuck into for the restless sunbathers!
I'd advise heading to the beach bar to try out some of the mouth-watering cocktail creations, my mum was so impressed she had to take a snap of the cocktails to add to her dinner party menu! Tip: Go for the green colada cocktail, it's a lovely blend of Gin, avocado cream, coconut and sage spices!
If the beach isn't for you, there is a gorgeous heated infinity pool situated overlooking the private cove. The pool is filled with skin-friendly seawater, and even has a section dedicated to children and younger guests.
Each evening and breakfast we dined at the Pangea restaurant. Newly redesigned for 2018, it serves American buffet breakfast and buffet dinner and the wide selection of food will cater for anyone, even the fussiest of eaters. The restaurant features an open-air kitchen and two spacious outdoor areas with fantastic views of the ocean.  For those who want to try out the other restaurants there is Taverna and Ocean restaurant which will need to be booked in advance. If you want to try some delicious local specialities like fresh fish and a selection of greek and international wines, these are the places for you!
The staff are extremely friendly and helpful which adds to the overall exquisite and luxurious ambience of the place. On calling up a member of staff, he immediately came over to our hotel room to help us open our two bottles of wine. (Yes, all 3 of us struggled to remove the cork screw!)
For those who like a bit of pampering and down time, there is the GOCO spa which offers a wide range of results-focused spa treatments combined with world-class heat and water facilities. Unfortunately we didn't have time to make it here as we were only there for 3 days. 
As the holiday drew to an end, there was an overriding sense of tranquility and inner calm, a feeling that could only be achieved by the surroundings and magical calmness of Daios Cove. As we bid farewell to the lovely staff and got chauffeured back to the airport in the Mercedes, the 5* service from start to finish combined with the unparalleled experience and natural beauty of the place had me thinking of booking a return visit next Summer!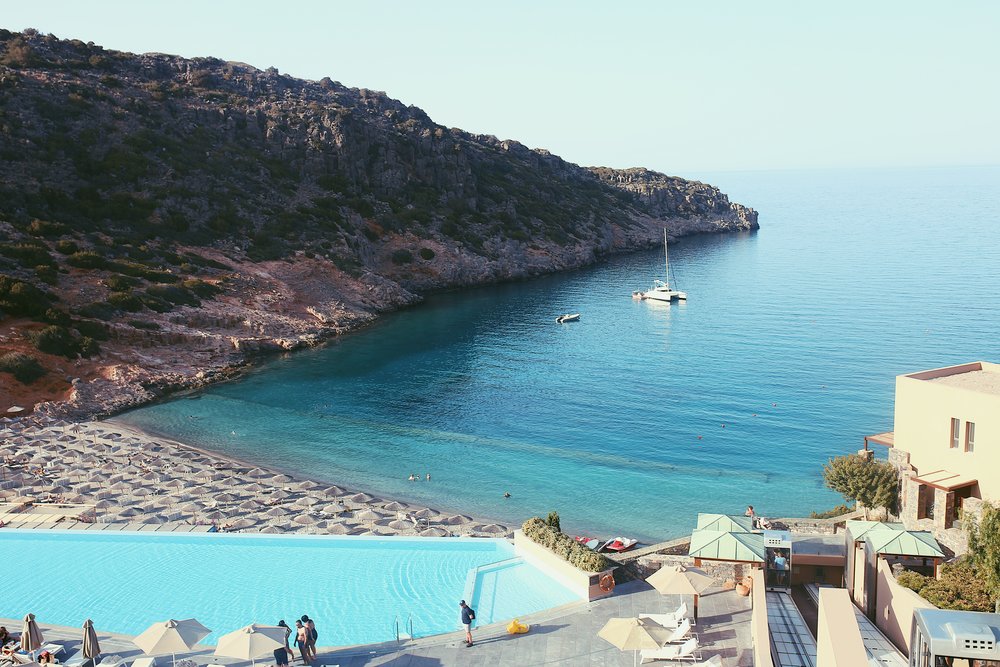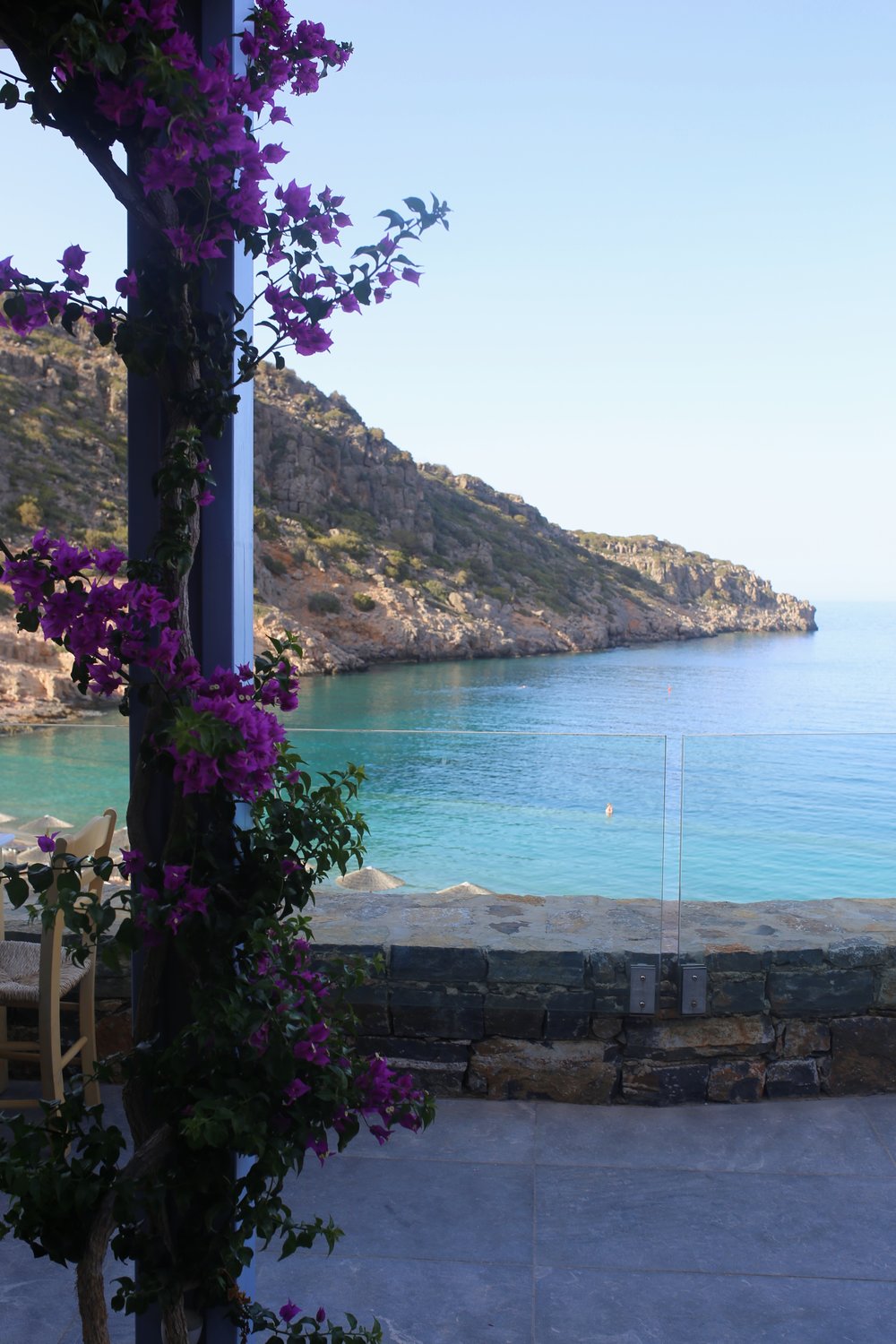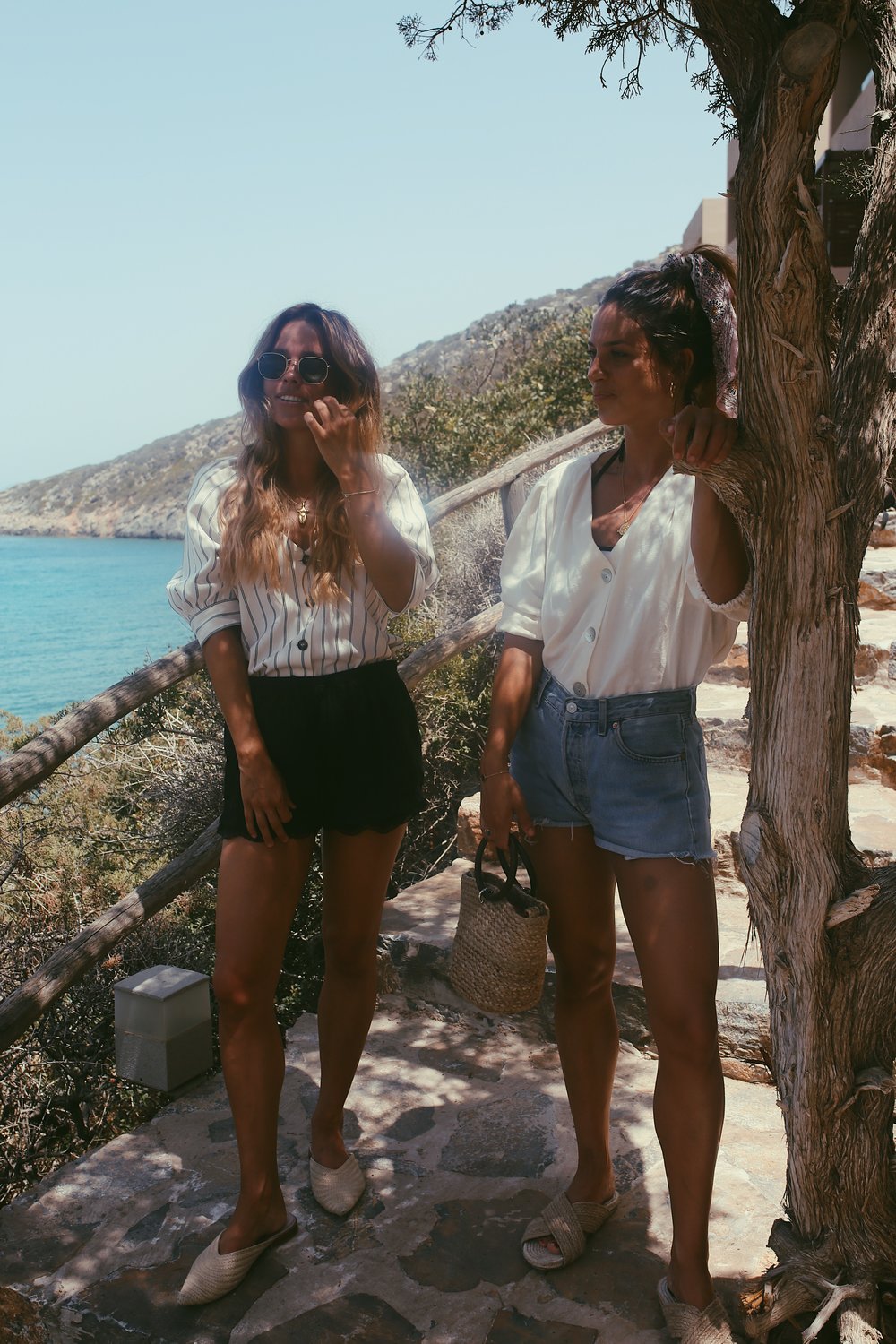 OUTFIT 1
Jordan - White Dress
Loanne - Orange slip-on dress
OUTFIT 2
Jordan
Loanne
Straw bag (similar)
OUTFIT 3
Jordan
OUTFIT 4
Jordan
Loanne