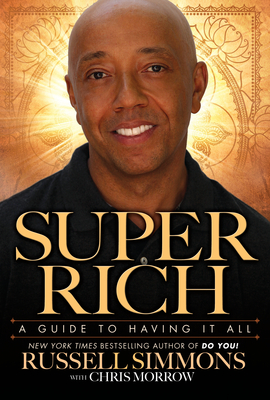 What does it mean to be super rich? Visionary entrepreneur Russell Simmons provides his definition in Super Rich: A Guide to Having it All (Gotham Books; Hardcover; 197 pages; $22.50). If you are looking for a book that is only going to show you how to make money, then stop reading. Simmons' definition of being super rich is more about how you live than what you have.
Simmons believes that spiritual fulfillment is as important as monetary fulfillment. In Super Rich, there are a few key principles he applies to his life that leads to this multi-dimensional fulfillment:
* Give honestly of your talents until others recognize that you are a talent that they cannot live without, which will cause them to reward you.
* Clear your mind of clutter because if your mind is full of junk, it doesn't have space for the valuable messages the universe is trying to send to you to help you achieve your full potential.
* Don't waste your time on things you don't love! Life is too short!
Bookworm's Review: 4 bookmarks. Super Rich has reaffirmed that what I am doing with Savionaire will continue to lead to my fulfillment. What is a perceived obstacle that is keeping you from spiritual and monetary fulfillment?
4 bookmarks – attend a book signing for it
3 bookmarks – buy it ASAP
2 bookmarks – wait for it to go on sale at a bargain price
1 bookmark  – borrow it from a friend or library
0 bookmarks – don't waste your time