| | | |
| --- | --- | --- |
|   |   |   |
| Find and Engage Top Notch StartUps | Create and Source Innovation |            Improve Deal Flow |
Why Corporates need us
The world is experiencing an unprecedented number of startups being launched every day and week.
This is fuelled by the radically lowered costs of starting and operating a company.
Many of these startups develop disruptive technology or business models, but many are struggling to scale beyond the first 5-20 people and initial revenue.
They might not have the skills, the funding, or access to the right distribution network.
On the other hand we are seeing that big corporate's are facing an increased pressure to come up with radical innovation to sustain growth and profit.
However, these companies tend to have problems of coming up with such radical innovation internally and they don't have the network to find the very early stage companies that could provide this.
The big companies have all the assets and skills to scale things, but first they need to find them.
Accelero Ventures wants to solve this problem and bring the two parties together.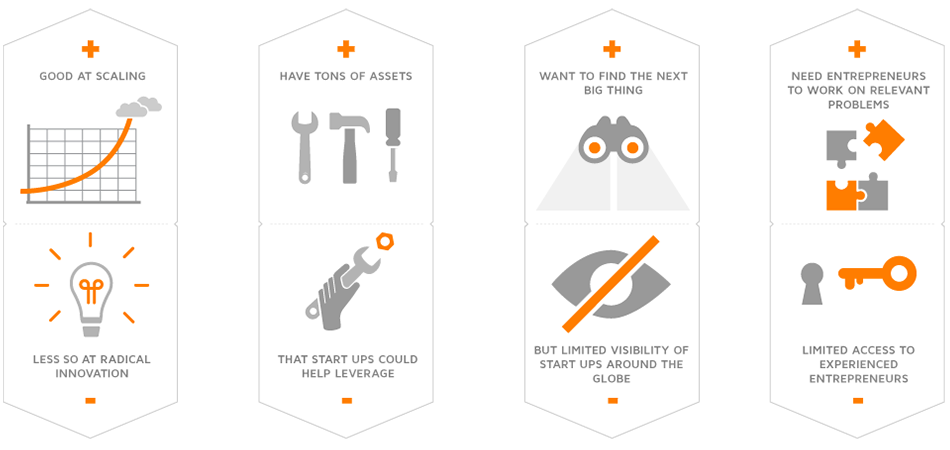 | | | |
| --- | --- | --- |
|   | |   |
| Proven Track Record |  Experienced Team of Entrepreneurs and Ex-Corporate Executives | Global Reach |
|   |   |   |
| Network of StartUp Community leaders / Founders |  Specialists – This is all we do |  We screen 1000+ StartUps / New Business Opportunities P.A. |
Sorry, there are no products in this collection